Daily Archives: February 19, 2008
February 19, 2008
The Reds started off the early injury news with reports that left-handed reliever Bill Bray is being held back because of a sore shoulder. This comes as no shock to me. Bray is the only player from Krivsky's Trade that has any hope of contributing something positive to the team. The Trade reeks so badly even these many years later, that its stench pervades everything directly in contact with it. I don't see Bray ever panning out.
The Cubs's Alfonso Soriano continues to have leg problems. There are reports that he's only running at 75%. Granted, Soriano's speed at 75% is more than most other humans, but this just might put a fork in his ridiculous idea that he's a leadoff hitter. We'll see.
In Cardinals-land, it looks like Matt Clement is the first to fall. He won't be available until who knows when, and lboros isn't happy about it. Apparently, the Cardinals, like so many clubs before them, like to mislead fans about how healthy players are.
The Brewers got into the injury fun, too, with Yovani Gallardo missing the first week or two of the season.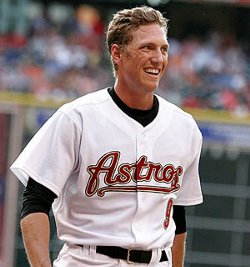 Gallardo had surgery to repair knee cartilage this week. Looks like the Brewers' rotation depth is going to get an early test since Gallardo was expected to be one of the locks for the top 5 after his wonderful rookie debut in 2007.
Despite all of the injuries, I think the Best Injury Award has to go to Houston's Hunter Pence. Pence apparently was possessed by Evel Knievel and walked through a sliding glass door, suffering cuts on his hands and knees. Almost as humorous as when Sammy Sosa missed a week after a sneezing fit.
At this rate, how many players will be left standing by the time Opening Day rolls around? Perhaps this is the Pirates' plan for competing in the division. I notice a conspicuous lack of injuries for them…
February 19, 2008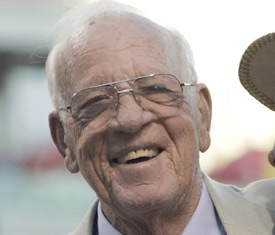 Joe Nuxhall did not win the 2008 Ford Frick award, and it's even more of a crime than when he didn't win the 2007 Frick award. From Reds.com:
The 2008 Ford Frick Award, which is given annually by the Baseball Hall of Fame in Cooperstown, N.Y., will go to longtime Mariners broadcaster Dave Niehaus. The Hall of Fame announced the election results on Tuesday.
This is a big, fat load of crap. Remember when the fans voted Nuxy in to the finals of this contest?
Of more than 122,000 online ballots cast by fans, Nuxhall received an astounding 82,304 votes. King was a distant second with 7,659 votes. When he also was a finalist last year, Nuxhall received more than 8,000 votes of the approximately 75,000 ballots cast.
The people haven't just spoken; they've jumped up and down shouting and waving their arms. Wake up, Hall of Fame!
February 19, 2008
Bob Howsam, universally recognized as the architect of Cincinnati's Big Red Machine of the 1970s, died this morning of heart failure in Sun City, Arizona. He was 9 days shy of his 90th birthday.
Funeral arrangements are incomplete, though a celebration of his life will be planned in the next few days. It will be held in Sun City.
"Cincinnati was his second home. He had some of his greatest successes there, and the city was always dear to him," said Howsam's son, Robert Howsam Jr.. "While Pops recognized the importance of the players and ownership in baseball, he always felt pleasing the fans should be the number one goal, whether it be concessions, parking or the experience at the ballpark. That was his guiding light, his main message."
Howsam was the club's general manager from 1967-78 and again from 1983-84, but he also served as president and chief operating officer from 1973-78 and 1983-85. He was inducted into the Reds Hall of Fame in August 2004.
Under Howsam's direction, the Reds were baseball's dominant team in the 1970s, a decade during which they won 6 Western Division titles, 4 National League pennants and World Series championships in 1975 and 1976. That team's starting lineup of Johnny Bench, Tony Perez, Joe Morgan, Dave Concepcion, Pete Rose, George Foster, Cesar Geronimo and Griffey earned 63 All-Star selections, 6 Most Valuable Player awards and 26 Gold Gloves.
While he was known as one of baseball's most shrewd traders, Howsam also was credited with making the Reds' minor league system one of the strongest in the game. In 1973, he was named Major League Executive of the Year by The Sporting News.
While presiding over the team's move from Crosley Field to Riverfront Stadium in 1970, Howsam expanded the front office staff and established promotional and public relations programs that would be necessary for success in the new park, including the Straight-A ticket program. He also was a member of Major League Baseball's executive and player relations committees. Howsam retired on July 1, 1985 but remained with the team for 17 months as a special consultant.
Reds President and Chief Executive Officer Bob Castellini said, "Mr. Howsam played a very important role in the long history of this proud franchise. He put together an organization that became the model for all of baseball. Our thoughts and prayers are with his family during this difficult time."