April 20, 2010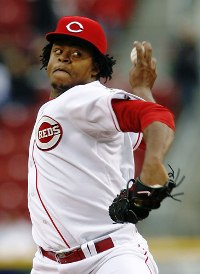 News broke this afternoon that injured Reds pitcher Edinson Volquez–you may remember him from one of the two awesome things about the 2008 Cincinnati Reds (Joey Votto was the other)–tested positive for performance enhancing drugs.
Edinson Volquez has failed a test for performance-enhancing drugs and will be suspended for 50 games, SI.com has learned.
Sigh. Just what the Reds need. There is one good bit of news to come from this. Well, good, if true. With breaking news on the internet, it's hard to tell. According to C. Trent, Volquez can serve the suspension while on the disabled list. If that's true, then Volquez's suspension would be up sometime in June. July was the month that had been touted as a possible return, but that always felt overly optimistic to me.
There's nothing but wild assumptions flying over Twitter and teh internets right now, but one thing I think we can look forward to: Volquez's apology. Which of the options will he employ?
Denial: "I didn't do it."
Feigned Ignorance: "I didn't know it was banned."
Competitive Excuse: "I wanted to return from my injury quickly."
Silence: No statements at all.
My money's on Feigned Ignorance.