May 16, 2011
With no massage appointment to be late for, the speed was down today for our training run.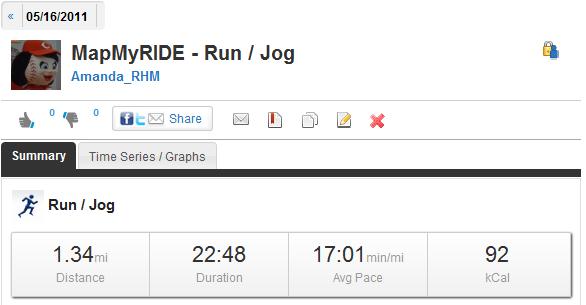 I was comfortable with 90 straight seconds of running today, so it might be time to notch up the speed. It would be nice to get the min/mile number into a range that's considered faster than "strolling."
Part of the fun of the Blog Jog is that blog fans are encouraged to dress up in wacky costumes or equally wacky blog-specific regalia. We're working on a design especially for this event that we'll be unveiling later, but we always have this classic design, available for the Blog Jog, Father's Day, the All-Star Game or whatever special day is in your plans.
If you'd like to show off your RHM gear at the Blog Jog, log on to http://reds.com/5k to sign up for the Redlegs Run, then email [email protected] to RSVP to the Blog Jog proper. You have to pay to be in the run, but you don't have to pay any extra to hang around with the bloggers.