February 2, 2012
Yes, for the moment everyone is occupied with the Super Bowl. I'm no football fan, but I'm as wrapped up in it as anyone. It helps when Super Bowl Village is five blocks away from your office. But soon that will be all over with, and then what? March Madness doesn't even start till June these days!
Enter Fox Sport Ohio with the cure: reruns of old Reds games and a little spring training coverage. Maybe it doesn't have the level of excitement that the games in April will have, but it's at least as exciting as the crap we sat through in August.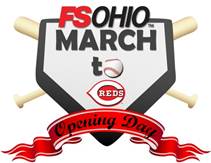 FOX Sports Ohio is ready to "March to Opening Day" with Reds Classic Rewinds & Reds Spring Training Coverage

Including a NEW 30-minute show every weeknight March 12-30 at 6:30pm

CINCINNATI, OHIO — Cincinnati Reds fans won't have to wait until Opening Day to enjoy Cincinnati Reds baseball. In a "March to Opening Day," presented by Tri-State Chevy Dealers, FOX Sports Ohio is excited for the return of Reds Classic Rewinds throughout February. As we head into March, the network will continue to feature coverage of the Reds with the live production of a Reds Spring Training game on March 5th and an all-new nightly show, Reds Live – Spring Training 2012, beginning March 12th.

FOX Sports Ohio will televise four (4) Reds Classic Rewind games, including three games from the 2011 season as well as a game from 1999 in honor of Barry Larkin's recent election into the Baseball Hall of Fame.

The Rewind series, hosted by Jim Day, will feature thrilling games such as Opening Day 2011 v. Milwaukee – the Reds notched a walk off win after Ramon Hernandez' slammed an opposite-field three-run homer. Other 2011 games include the game from July 15th when the Reds claimed a 6-5 win against St. Louis in front of a sellout crowd at Great American Ball Park, and the game from August 13th, the Reds-San Diego win that marked several Reds' season-highs and the largest winning margin of the season. Fans will also enjoy the Barry Larkin replay from May, 7 1999, in which Larkin went 3-for-4 with 2 RBI, including a walk-off double.

FOX Sports Ohio debuts the return of this entertaining series Monday, February 6th at 7pm, with a new game every Monday.

As the Cincinnati Reds enter into their third Spring Training at Goodyear Ballpark in Goodyear, Arizona, FOX Sports Ohio will televise the Reds Spring Training game on March 5th at 3pm EST in Goodyear when the Reds take on the Cleveland Indians. Thom Brennaman will call the game alongside Chris Welsh.

Finally, FOX Sports Ohio is excited to announce a NEW nightly show, Reds Live – Spring Training 2012, that will air Monday thru Friday from March 12th to the 30th. Each weeknight starting at 6:30pm, Reds fans will get 30 minutes of Reds Spring Training news, notes, interviews and features. Jim Day, Chris Welsh, and Jeff Piecoro will host the show from the Reds Spring Training complex with appearances by Jeff Brantley, Jim Kelch, and Thom Brennaman. Various features of the show will also be available on FOXSportsOhio.com.

Following each new show every evening, the show will replay later that night at 10pm or following a FOX Sports Ohio live event. The show will also replay the following morning at 8:30am.