September 4, 2012
| Team | 1 | 2 | 3 | 4 | 5 | 6 | 7 | 8 | 9 | R | H | E |
| --- | --- | --- | --- | --- | --- | --- | --- | --- | --- | --- | --- | --- |
| Phillies | 0 | 0 | 0 | 0 | 3 | 1 | 0 | 0 | 0 | 4 | 8 | 0 |
| Reds | 0 | 1 | 0 | 0 | 0 | 0 | 0 | 0 | 1 | 2 | 6 | 0 |
W: Cloyd (1-1) L: Cueto (17-7) S: Aumont (1)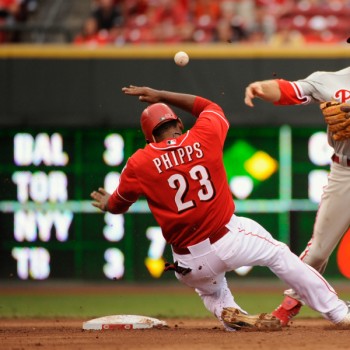 The Reds lost a disappointing series opener against the Phillies yesterday by a score of 4-2.
Johnny Cueto was pitching for the Reds and had a pretty poor outing by his standards. In 7.0 innings of work, he allowed 4 runs (earned) on 8 hits. Two of those were home runs: one to Jimmy Rollins with 2 guys on in the fifth and a solo shot to John Mayberry in the sixth.
If he'd gotten the win, it would have been a big deal, since no Red has gotten to 18 wins since I was in high school. I guess he'll have to wait another 5 days for that.
J.J. Hoover and Logan Ondrusek each put in a hitless inning of work to follow up Cueto's performance. Good for them. It's nice to know the Phillies can't just beat up on everybody on the Reds' roster.
Jay Bruce was the sole provider of the RBI. He hit a home run in the second inning and tried to keep a rally going with 2 outs in the ninth by knocking in Ryan Ludwick. But alas, that's all that ever came of the offensive threat.
In addition to Bruce's 2 hits, Ludwick also went 2-for-4, and Todd Frazier and Brandon Phillips each had a hit. September call-up Denis Phipps pinch hit in the eighth and walked.
The loss brings the Reds' record to 82-54. Today they continue the series when Mat Latos (RHP, 11-4, 3.79 ERA) tries his hand against Kyle Kendrick (RHP, 8-9, 4.01 ERA) for the Phillies. First pitch at 7:10 p.m.