September 17, 2012
| Team | 1 | 2 | 3 | 4 | 5 | 6 | 7 | 8 | 9 | 10 | 11 | R | H | E |
| --- | --- | --- | --- | --- | --- | --- | --- | --- | --- | --- | --- | --- | --- | --- |
| Reds | 0 | 1 | 0 | 1 | 1 | 1 | 0 | 0 | 0 | 0 | 1 | 5 | 17 | 0 |
| Marlins | 0 | 0 | 0 | 2 | 0 | 0 | 1 | 1 | 0 | 0 | 0 | 4 | 8 | 1 |
W: Ondrusek (4-2) L: Zambrano (7-10) S: Broxton (25)
The Reds just barely eked out a win yesterday to avoid being swept in the 3-game series by the Marlins in Miami.
Mat Latos started for the Reds, and while he wasn't exactly his sometimes-dominant self, he put in a pretty good showing. In 7.2 innings of work, Latos allowed 4 runs (earned) on 7 hits and 3 walks.
Sam LeCure finished off the eighth inning and pitched the ninth without allowing so much as a hit. Latos struck out 8 in his 7.2 innings, but LeCure did even better, striking out 3 in 1.1 innings. I hope LeCure can keep this going.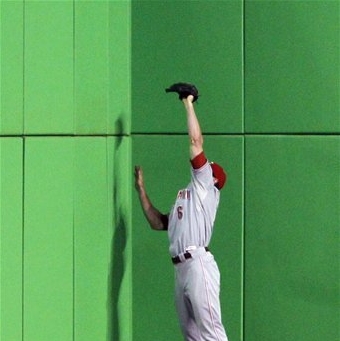 Sean Marshall (0.2 IP), Logan Ondrusek (0.1 IP), and Jonathan Broxton (1.0 IP) took care of the rest of the game with hitless performances, though Marshall and Broxton each walked a guy.
It's almost gotten to be ho-hum from the Reds bullpen, but LeCure, Marshall and Ondrusek each pitched in the situation where allowing any runs equaled immediately losing. That's gotta be tough.
The offense against suffered from LotsOfHitsButNotLotsOfRuns-itis. Joey Votto was on base 6 times, between his 2 hits in 4 ABs and his 2 walks. Ludwick (3-for-6), Todd Frazier (2-for-6), Dioner Navarro (3-for-6), and Didi Gregorius (3-for-5) also had multi-hit nights.
On the other hand, several guys also left plenty of runners on base: Brandon Phillips (5), Jay Bruce (6), and Todd Frazier (6).
The Reds had the lead after the sixth inning, but allowed Miami a run in each of the seventh and eighth to tie it up. In the eleventh, Carlos Zambrano took the mound for the Marlins, and Chris Heisey managed a single. Votto took a walk, and then Ludwick singled in Heisey. With 0 outs and 2 guys on, it looked good for the Reds to put an insurance run on the board. Instead the next 3 guys got out and the team was charged with defending a 1-run lead.
After 2 quick outs, Donovan Solano took a walk, and then John Buck hit a a long fly ball to center field that I thought for sure was ending the game in the wrong way, but then Drew Stubbs maneuvered the wall and came up with it (pictured).
Fortunately, it turned out to be enough on this night to reduce the magic number to 5. The win brings the Reds' record to 88-59. They have today off before heading to Chicago tomorrow.