March 15, 2013
Last Game
The Reds pulled their spring training record down to 5-13 yesterday with a loss to the Mariners. Homer Bailey gave up 3 runs (earned) on 6 hits over 4.0 innings of work, but left the game with a sizeable lead. Seattle did their coming back on Clay Hensley who pitched the next 2.0 innings and gave up 4 runs (earned) on 3 hits and a walk. He also struck out five, for what it's worth.
Chris Heisey, Zack Cozart, Denis Phipps, and Jason Donald had multi-hit games for the Reds. Joey Votto went 0-for-2 but still had a run scored, thanks to hitting into a fielder's choice.
Next Game
The Reds host the Rockies tonight at 10:05 p.m. Johnny Cueto will take the mound for the Reds against Jeff Francis for the Rockies.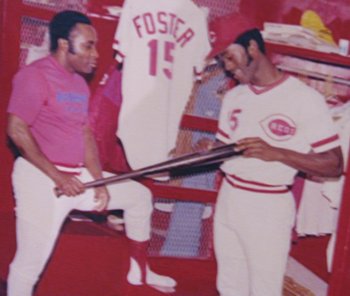 George Foster to Marshall the Opening Day Parade
Opening Day is a huge deal in Cincinnati, and every year they select a celebrity to be the grand marshal of the parade. This year they've selected George Foster. From the story on Cincinnati.com:
Foster is a former member of the Big Red Machine and a National League MVP (1977) who spent 11 of his 18 major league seasons with the Reds.

"I think sometimes George gets lost in the shadow of Bench, Rose and Morgan, but if you look at his stats, he was just as big a part of the Big Red Machine as anyone," said Neil Luken, chairman of the 94th annual parade. "And to boot, he's just a nice guy."
April 1 will be here before you know it!
What to Say to Sound Smart at the Water Cooler
When the Reds faced the Rockies' pitcher that they'll be facing tonight earlier this spring, Cozart grounded into a triple play.