September 24, 2013
Being a Reds fan in Indianapolis, I follow both the Reds and the Indianapolis Indians, who are the AAA affiliate of the Pirates. So it's no big surprise to see announcements from both teams about clinching playoff spots in my Facebook feed this morning.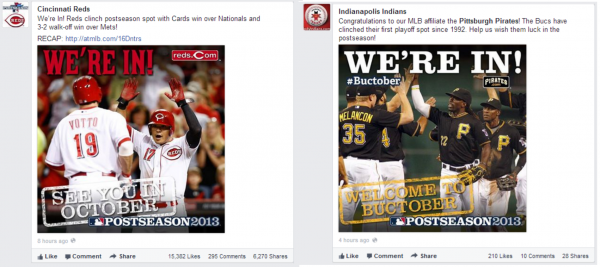 I came across the posting about the Indians first. When I scrolled down a little further to find the one from the Reds I thought, "my, that looks familiar."
I guess MLB must have a template for this sort of thing? But they let the Reds use their special font and they let the Pirates use their terrible hashtag. "Buctober"? That's apparently the month that comes after "Subtember" and before "Movember." But now what's to become of "Rocktober"?? Heavy metal stations around the country will be left scrambling!
In fact, all of the NL postseason contenders are now set; it's just a matter of which NLC team will win the division, take the first wildcard, and take the second wildcard. Any of them could still fill into any slot, though the Reds doing things like letting the Mets take them into extras does sort of make me just grateful for what I have.