June 15, 2009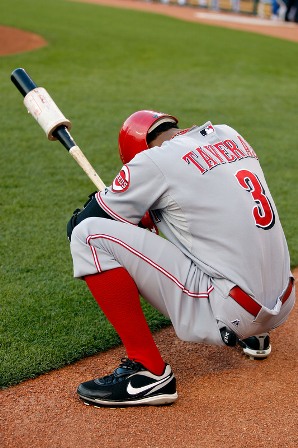 Dang, the Reds are boring right now. Part of it is that they didn't even play today, though frankly that's a bit of an improvement over the games of the last three days. It's hard to work up a serious baseball passion watching a sweep at the hands of the Royals. There's only so much enthusiasm a person can muster at each Taveras at-bat, wondering if this will finally be the time.
Speaking of, I went out to Reds.com to see was what up on the official news front. I clicked on the story, "Baker working with Taveras to shake slump" to see what magic potion Dusty was concocting, only to be taken to the Atlanta series preview. Apparently even the official site don't have anything more to say on the matter.
So I went to Red Reporter and dug through the flashing ads enough to find a discussion of old Reds short stops. Man, those really were the days. Barry Larkin got a hit in the first AB of the first Reds game I ever saw in person. Why he was leading off, I don't know, but apparently it's etched in my memory for all time.
Took a look at Redleg Nation, where Steve Price is advocating trading Aaron Harang for a bat. I don't think so, Tim. The bats will come off the DL eventually. No need to disassemble the rotation just yet.
Except maybe just to make things a little more interesting.