December 3, 2009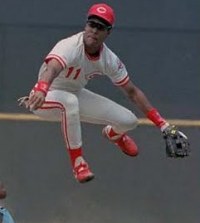 We all know how much the current Cincinnati Reds suck (I'm looking at you, Dusty Baker), so let's distract ourselves from the dreary present and let the nostalgia of the perfect past. You know, like the only way the poor Reds marketing department has to entice people to games.
Barry Larkin will be on the Hall of Fame ballot for the first time this year, and unlike Davey Concepcion, Larkin may actually be good enough for the Hall. Had I short-sightedly chosen to enter the dying newspaper industry and accrued the requisite number of years experience, he'd have my vote.
And apparently, the votes of a few people who made that choice I did not. The Reds beat writer John Fay is voting for Larkin, as is Jim Caple at ESPN. I bet there's more than that out there, but will it be enough? Will it be the 75% needed to be in Cooperstown forever?
For those of you interested in that thing called "statistics", Redleg Nation put up a nifty table comparing Larkin to all other Hall of Fame shortstops. If Larkin's high standing among those elite doesn't sway you, how about a personal letter from Bob Castellini?
Whether Larkin makes it in this year or next, I'll always remember him for the standing back-flip he did during the 1990 playoffs. And you can relive those thrilling days of yesteryear–when the Reds not only managed to win more than they lost, but make it to the playoffs–by attending RedsFest this year. I understand Barry Larkin is going to be there.