June 4, 2012
It's just like two years never passed, and not just because the Reds are atop the division again (albeit feeling much less green this time around). I'm also talking about my RHM inbox, which features four emails that I've been holding on to since 2010. I was neck-deep in MBA coursework then, so I just held on to them thinking, "someday…"
I figure it's now or never: everyone knows that 2-year old emails are OK, but there's a strict 3-year expiration date on emails. So, let's see what we've got…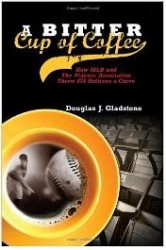 July 2010 – New book exposes baseball pension scandal
On April 14, 2010 the book A Bitter Cup of Coffee; How MLB & The Players Association Threw 874 Retirees a Curve was released, detailing how guys who came up for a cuppa between 1947 and 1979 got screwed pension-wise.
If you're interested, it's just $18 on Amazon.
August 2010 – A request to be the exclusive diamond and watch dealer advertising on RHM
Not sure why I kept this one. I think they misunderstood what kind of diamonds I write about.
August 2010 – Interview with a female baseball memorabilia expert
Are female sports memorabilia experts unusual? Apparently enough so that it was worth drawing special attention to in this email I received about an interview with baseball memorabilia appraiser Leila Dunbar.
I dream of a day when people will fail to read this article because they don't give a rat's ass about Yankees' memorabilia, and not because its subject is a woman.
August 2010 – A cool video of Seaver and Rose from 1977
Play that Funky Baseball is a blog obsessed with reliving baseball from the '70s, and they posted this clip of Pete Rose and Tom Seaver on the Mike Douglas Show. Boy, the pace of television was a lot different back then. It was interesting to hear them talking about the controversy of this new practice of renegotiating contracts and explaining free agency "for the ladies who don't know what it is."