Last Game
The Reds had an off-day yesterday while they made the lengthy trip home from Chicago. They can use their off-time to prepare to compensate for the loss of Joey Votto even longer: he needed a follow-up procedure to his arthroscopic knee surgery and now will be out for another 7-10 days longer than initially expected.
Next Game
Tonight the Reds open a series with the New York Mets. The Mets' Chris Young (RHP, 3-6, 4.87 ERA) has been having a rough time of it lately. He'll be facing the Reds' Mat Latos (RHP, 10-3, 3.81 ERA) who allowed only 1 run while striking out 8 in 7 innings his last time out. First pitch at 7:10 p.m.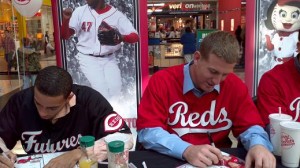 Billy Hamilton
The Reds' top prospect is a double-A shortstop named Billy Hamilton. Even if you don't follow the minors, you may have heard his name, since he is on the precipice of beating the minor league record for the number of steals in a season.
The record is 145, and here at August 14 with another 2 weeks to go in the minor league season, he already has 139. That's 1.23 stolen bases per game, so barring the unexpected, he ought to blow that record away.
Of course, we in Reds country know that base-stealing ability means nothing if you can't get on base. There's a nice article on the Minor League Baseball site talking about how hard Hamilton has been working on his hitting. This season he's hitting .315 with a .412 OBP.
What to Say to Sound Smart at the Water Cooler
The Reds have gone 18-8 since Votto left the line-up to get his knee scoped on July 16.