Last Game
The Reds won and ensured no less than a split of the 4-game series against the Phillies last night.
Bronson Arroyo faced the minimum number of batters through the first four innings, gave up a home run in the fifth to Domonic Brown and then went back to facing the minimum until the eighth inning. Prior to this, the Phillies had owned Arroyo, but he really demonstrated mastery last night. You just never know what you're going to get with that guy.
Jay Bruce went 2-for-4, hitting a triple and a home run. The home run in the eighth turned out to be the Reds' margin of victory. Final score: Reds 3, Phillies 2.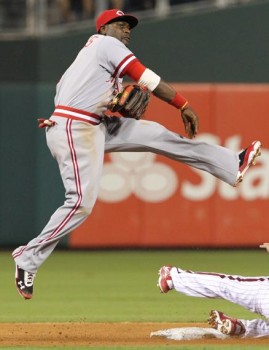 Next Game
The Reds have taken me by surprise and won 2 games I thought they would lose, so I don't know what to think of tonight's match-up between Johnny Cueto (RHP, 16-6, 2.44 ERA) and Cole Hamels (LHP, 14-6, 2.94 ERA). I do wonder how the Phillies have so many big name pitchers and only a 57-67 record to show for it, but I'm not complaining.
First pitch is at 7:05 p.m.
Throwback Unis
The Reds and Phillies both donned throwback uniforms from the early '90s for last night's game. If you blurred your eyes a little, you might have thought you were watching Barry Larkin and Hal Morris.
I noticed the guys adjusting their jerseys more than usual; the fit must be pretty different than what they're used to. Those weren't slimming uniforms, but they had a certain pajama charm. You've got to love the striped elastic waistband.
Lots of people take a very serious interest in uniforms, and if you think you might be one of those, check out this site from BaseballHallOfFame.org where you can see uniforms for all the teams throughout the years.
What to Say to Sound Smart at the Water Cooler
Aroldis Chapman converted his 23rd save in a row last night, tying the Reds' team record held by John Franco and Rob Dibble.