Last Game
Mat Latos had the Phillies' number last night as the Reds took the second game, 1-2, to even the series.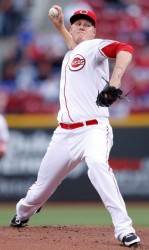 Latos pitched 7 and allowed just 4 hits for his 12th win of the season. Jonathan Broxton pitched the eighth and didn't allow any hits. Aroldis Chapman pitched a hitless ninth and got his 35th save of the season. And let's not forget Jay Bruce, whose 2-run home run provided the Reds' score.
Next Game
The Reds finish out the series against the Phillies today at 12:35 p.m. and I'm not sure I like the looks of it. Mike Leake (RHP, 7-8, 4.45 ERA) tries his best against Roy Halladay (RHP, 8-7, 4.02 ERA).
It's a Paycor Business Day Special, which means you put your card in the fish bowl at a Fan Accommodation Station for a chance to win tickets to the next Business Day Game. It's also the Tri-State Centers for Sight Senior Citizen Specials, where fans 60 and older buy tickets at half-price in advance of game day only. So be on the lookout for some "senior" executives running around the park tomorrow.
Reds Rake in the Awards
Aroldis Chapman has been killing it on the mound all year, and it hasn't escaped noticed. Yesterday Chapman was named the Major League Baseball Delivery Man of the Month for the second month in a row (July and now August).
Meanwhile, Todd Frazier was declared the Rookie of the Month for August. He hit .330 for the month and had 25 RBI. I should say so: he's only been filling in for the best player in the game and been doing it with style. I wonder if this award will help keep him in the line-up when Joey Votto does finally return (rumored to be today, but I've been burned before).
Frazier had had a games-with-a-hit streak going, but he ended it at 26 with an 0-fer game last night. He did, however, take a walk, so his games-with-a-turn-on-the-bases streak continues.
What to Say to Sound Smart at the Water Cooler
Six Reds pitchers have 100 strikeouts apiece this season (Arroyo 107, Bailey 129, Chapman 117, Cueto 149, Latos 158, Leake 108). They're just the fifteenth team in ML history to do such a thing, according to the game notes. If Arroyo, Chapman, and Leake can squeak their way up to 120, it'll be the first time any team has had six pitcher with 120 Ks apiece.