February 13, 2009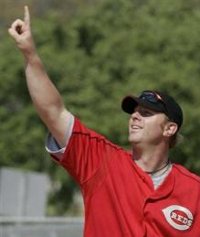 Adam Dunn signed with the Nationals this week, fulfilling Jim Bowden's ages-old dream of rebuilding the killer outfield he'd engineered back in Cincinnati in 2004-2005, minus one pesky injury-prone kid.
That's right, at some point next season, you can expect to see Adam Dunn, Wily Mo Peña, and Austin Kearns all patrolling the Nationals' outfield grass.
Reds fans nostalgic for the greener, non-Dusty Baker days of 4 to 5 years will have to wait until the middle of August for Washington to visit Cincinnati. I have a feeling that neither team will be in contention by then.