December 31, 2009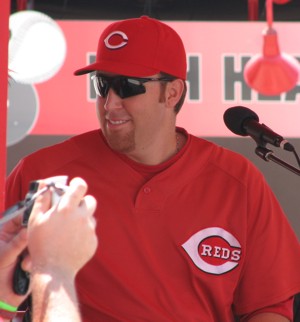 They're singing about the plight of Aaron Harang over at View from the Bleachers:
Harang received the worst run support in baseball last year as the Reds only scored an average of 3.2 runs per nine innings while he was on the mound. Basically, the Reds' offense hit opposing starters like they were facing Cliff Lee or CC Sabathia every time out.
Well, the rest of the team generally was facing up against some pretty good pitching when Harang was on the mound, seeing as teams are on pretty close to the same rotation schedule, but they certainly could have done better. I wonder how much self-fulfilling prophesy comes into it, which would throw this part into some doubt:
With persistent rumors about a trade to a contending team, Harang's resolution is likely to come true in 2010. But even if he stays with the Reds, his run support should improve anyway. While the Reds' team scoring rate of 4.13 runs per nine innings is poor, it is still well above the 3.22 runs they averaged for Harang.
Sure, if the team were actually a bunch of random number generators. Unfortunately for order-loving people everywhere, players are human and seem even more chaotic than random numbers, even in aggregate. I hope that it doesn't actually take a change of venue for Harang to get some run support. Maybe just a new short stop would do the trick.