March 27, 2014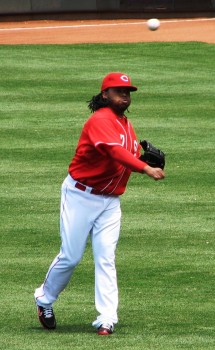 If you'd told me at the beginning of Spring Training that the Cincinnati Reds would be starting the season with seven people on the disabled list, I would not have believed that oft-injured Johnny Cueto would also be making his annual Opening Day start. By some minor miracle, Cueto has made it through the spring unscathed and will be starting on Monday.
Bryan Price didn't want to leave anything up to chance, the next time Johnny Cueto pitches, it will be on Opening Day against the Cardinals at Great American Ball Park.

Price waited to make the final decision until after Cueto played catch on Wednesday, the day after an 89-pitch minor-league appearance. Only then, when Cueto reported no ill effects, did Price tell him he was the choice to start Monday.

"I'm comfortable now to make that declaration," Price said. "He was very happy. When he's healthy, he's been our No. 1 starter legitimately for the previous four years. The problem last year was he was only able to make 11 starts for us, keeping him healthy is the key, which is why I was reluctant to name a starting rotation, especially when Latos went down early and Homer and Leake had their issues. With Johnny's recent history, it was hard to make an early decision on who would start Opening Day."
Tony Cingrani is scheduled to start the second game of the season against the St. Louis Cardinals, with Homer Bailey starting the third. By the end of April, it's hoped that Mat Latos will be back and Alfredo Simon can be moved back to the bullpen.