December 30, 2010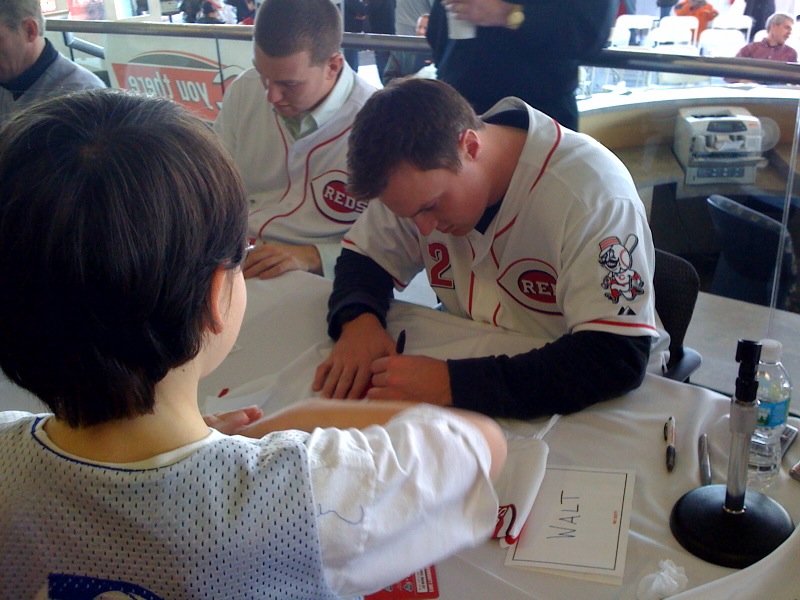 This morning the Cincinnati Reds put up this Facebook post about Sean Casey:
For children with special needs, former Major Leaguer Sean Casey is helping to construct facilities and ballfields in Pennsylvania so kids aren't left out and can play baseball.
Boy, that takes me back. That Casey: always the nice one. And it also demonstrates how little there is to talk about in Redsland right now if we're going as far back as the Casey era for conversation. As if this year weren't already rough enough, content-wise, what with the team being so darn good and all, the holiday season is even rougher without Wayne Krivsky around to make a million terrible trades to bitch about.
I'd rather look forward than back, though, since conjecture is so much easier than analysis. And the next thing on the Reds-related event list for me is the Reds Winter Caravan.
The Caravan will roll through January 27-30, though they haven't decided which city will be which day or which players, coaches, and administrators will be on each leg of the three legs of the tour, but last year it went like this:
Northern Tour
Thursday: Marietta OH/Parkersburg WV
Friday: Athens, OH
Saturday: Lima, OH
Sunday: Columbus, OH
Western Tour
Thursday: Louisville, KY
Friday: Bloomington, IN and Indianapolis, IN
Saturday: Muncie, IN and Dayton OH
Sunday Oxford, OH
Southern Tour
Thursday: Charleston, WV and Huntington WV
Saturday: Cincinnati, OH
Sunday: Lexington, KY
We usually hit the Muncie stop, despite living closer to Indianapolis, and it's always an event. Muncie remained stoically loyal to the Reds, even when the team ceded Indiana to the Cubs and Cards under the reign of Carl Lindner, but then, Muncie is a place out of time in many ways. I definitely recommend this stop for an excellent visage of a multitude of trucker caps and the hot dog stand that they set up at the back of the dealership for while you're standing in the autograph line.
Oh, and you can read the rest of the Casey story here.