December 17, 2010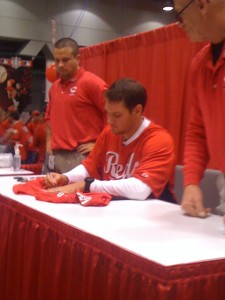 You may remember last year at this time how Paul Janish was preparing to become the team's everyday, starting shortstop. That didn't happen, thanks to the February 2010 signing of Orlando Cabrera.
So far, this off-season is shaping up to be a repeat of last year. Cabrera was not re-signed, leaving Janish as the only player on the major league roster capable of playing shortstop. Janish's 2010 was much more promising than his 2009. This season, Janish improved his batting average, not out percentage, and his slugging percentage. All the while, his defense seems to be better than any the Reds have had in many years up the middle.
I wasn't too happy with the Cabrera signing. Clearly, the Reds weren't happy enough with his performance to pick up his $4 million option for 2011. Janish has shown that he can produce as much offensively and better defensively than Cabrera, and for the minimum wage.
According to an article from Mark Sheldon, it sounds like manager Dusty Baker is ready to give Janish the ball daily, too.
Asked if Janish was ready to be "the guy" at shortstop next season, Baker replied, "Yeah, I think so."

"He showed improvement offensively," Baker said. "There is no better place to serve your apprenticeship, get time in the big leagues and time in service than he had in that role before."
Obviously, if by some roster and payroll miracle, Hanley Ramirez becomes available, I'd prefer that upgrade. Since that won't happen, I'd really like to see Paul Janish have a year at shortstop.