Last game
The Reds completed a 3-game sweep of the Mets yesterday, winning 7-4. Mat Latos pitched for the Reds. He put in 6.2 innings and allowed 4 runs (earned) on 8 hits and a walk. In the seventh, when the Mets scored their third and fourth runs, the Reds only had 4 runs of their own, so it was looking a little dicey, but these guys battled back and tacked on 3 more in the top of the ninth.
Normally, Brandon Phillips' 2-for-4 with a walk and 2 RBI would be a pretty impressive night, but Joey Votto went 2-for-3 with 2 walks and a home run and 2 RBI. Zack Cozart went 4-for-5 with 2 RBI. This team can really turn it on sometimes.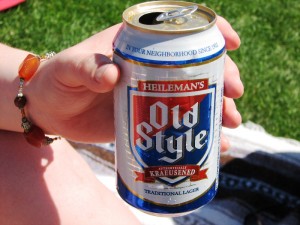 Next game
The Cubs? Again??
Yes, it's another three games with the Cubs in Cincinnati, starting tomorrow after a day off today. Bronson Arroyo (RHP 4-4, 3.28 ERA) will take on Scott Feldman (RHP, 4-3, 2.19 ERA). First pitch at 7:10 p.m.
The first geo-targeted email I've ever gotten from the Reds
I have complained that MLB doesn't do a very good job in segmenting it's marketing emails (and that's still true, unless their "Congratulations! You earned a month's subscription to our magazine!" is something special they crafted just for me) but I got an email from the Reds yesterday that seemed to know where I am.
And since I hadn't heard about this camp before, even though it's "back," I thought I'd share it with any other readers in the greater Indianapolis area with kids who might enjoy it.
REDS BASEBALL AND SOFTBALL CAMPS ARE BACK THIS SUMMER!
You can give your child a big-league camp experience of a lifetime by signing him/her up for a Reds Baseball and Softball Camp this summer. These camps provide kids with a week filled with fun and enjoyment along with top-level instruction to learn the right way to play the game. Whether your child is a beginner or advanced player, the Reds Camps are a great fit.

And don't forget, since this is the Reds Camps, your son or daughter will have the added benefit of unique Reds experiences. A Reds coach will take part in the instruction during the camp week and every camp will feature a guest appearance by a current Reds player. Plus, all campers will take part in a VIP trip to get a behind-the-scenes look at Great American Ball Park, will receive a full Reds uniform and four Reds tickets to a reunion game where they'll have the chance to take part in a pregame parade on the field.

Reds Baseball and Softball Camps are taking place in locations throughout Reds Country all summer long. Below is the location and dates for the camp closest to you:

INDIANAPOLIS AREA
June 17-21
Billericay Park
12690 Promise Rd., Fishers, IN 46038
Here is the website where you can register for the camp, if you're so inclined.
What to say to sound smart at the water cooler
Joey Votto has an 11-game hitting streak going. Meanwhile, the Reds have won 10 of their last 12. Coincidence??