May 9, 2013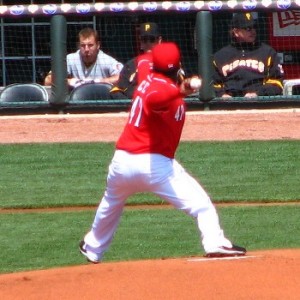 It's been almost a month since Cincinnati Reds ace pitcher Johnny Cueto last was on a pitching mound in a professional baseball game. But today, while the Reds have a scheduled day off, Cueto will be making a start for the class A Dayton Dragons.
"I feel pretty good, but we'll see tomorrow how I feel for the game," Cueto said after the Reds' loss to the Braves on Wednesday. "It's a lot different in the bullpen than it is in the game. I need to throw in a game."
The current plan is for Cueto to make two rehab appearances, building up his pitch count and arm strength before returning to the majors. That, of course, requires no further setbacks, which feels like a big if considering Cueto's rehab was delayed once already due to oblique soreness.
It won't be Cueto's first time pitching for the Dragons. Back in 2006, when he was working his way through the Reds' minor league system, he made 14 starts, going 8-1. Hopefully, he won't be in Dayton that long for this go-around.
The game starts at 7:00pm. If you're in the area, tickets are still available.