Blog Archives
July 16, 2014
In case you were wondering why all the baseball teams just suddenly stopped playing and the most recent score on your phone sports app is from Sunday, that's because it's the All Star break. The game was last night, with the National League losing to the American League 5-3, thanks entirely to the terrible pitching by the St. Louis Cardinals.
It was also the last All Star game for Derek Jeter. However, that was not because he was going to be a human sacrifice following the game as I originally thought. Apparently, he's decided he sucks at baseball now and wants to quit instead of going after Pete Rose's hit record.
That also was not what the game and the break has been about for me. No, for me, it's been Todd Frazier blossoming on the national scene. First, he was selected to participate in the home run derby. This is the first time I've sat through an entire derby–three hours of batting practice, counting the rain delay–and it's thanks entirely to Frazier. He was that much fun to watch.
After his initial round of only 2 home runs, I figured he was done. But then Yasiel Puig hit no home runs in his 5 seconds of trying, and Frazier tied with Justin Morneau. After Frazier won the tie-breaker, he advanced to the second round and easily dispatched Troy Tulowitzki 6-2. In the semi-finals, Frazier narrowly squeaked by Giancarlo Stanton 1-0.
That made Frazier the National League Home Run Derby champion, which is pretty cool. Sure, he was easily dispatched by the defending champion Yeonis Cespedes, but it was quite enjoyable to see Frazier competing with his oldest brother throwing the pitches.
Frazier walked in his lone at bat during the All Star game. And hopefully, we'll get to see him and many more Reds take the field when the game comes to Cincinnati next year.
July 10, 2014
After the hopefully minor injuries to Brandon Phillips and Billy Hamilton last night, the Cincinnati Reds are in full day-to-day mode.
Chris Heisey, CF
Skip Schumaker, RF
Todd Frazier, 3B
Brayan Pena, 1B
Ryan Ludwick, LF
Ramon Santiago, 2B
Zack Cozart, SS
Tucker Barnhart, C
Homer Bailey, P
Ouch. Only one of those hitters–Frazier–is having an above-average offensive year. Out of all the teams in the majors, there is only one that I can see this weakhouse lineup being effective against: the Cubs. Thankfully, the Reds are playing them today.
July 7, 2014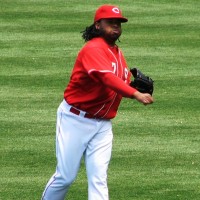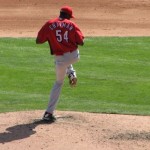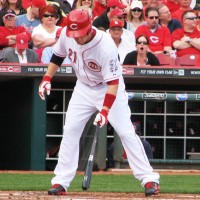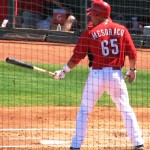 Yesterday, the roster for the 2014 All Star game was announced, and the Cincinnati Reds are well represented. Aroldis Chapman, Johnny Cueto, Todd Frazier, and Devin Mesoraco were all selected to go to Minnesota and represent the National League this year.
Can you believe that? Four All Stars? Does this crappy team seem like one with four All Stars? It doesn't to me.
The team is in 4th place and has had a winning record for maybe a week. I find it hard to believe that a team that's just above the Chicago Cubs, currently in the second century of their rebuilding effort, would have four players selected.
Not to mention, the manager of the National League who picked all those Reds–none were voted in–was the manager of the St. Louis Cardinals. The last time a Cardinal manager picked, Cueto was snubbed by infamous curmudgeon and kitten squeezer Tony LaRussa.
But not this time. Cueto has made his first All Star game, as have Mesoraco and Frazier. This will be Chapman's third.
The strange thing about the players selected is that it feels like an obvious player–Alfredo Simon–was overlooked. I would've thought the pitcher leading the league in wins would have a legitimate shot at being an All Star. I guess not. He's not even on the lame Last Man vote.
So sorry Simon. Maybe this'll give him time to defend his rape case. But congratulations to all the Reds players. With this many, I might have to tune in to catch their appearances.
July 3, 2014
Cincinnati Reds center fielder Billy Hamilton has won the National League rookie of the month award for June, thanks to his fantastic speed and his improvement at the plate.
The 23-year-old speedster led the N.L. with 14 stolen bases while his 36 hits were tied for second. Hamilton paced N.L. rookies with 18 runs scored, three home runs, 10 doubles, 18 RBI, and a .500 slugging percentage. His .327 (36-for-110) batting average also was the highest among the League's rookies.
So congratulations to Hamilton on winning this award I've never heard of. He's the first Red to win it since I didn't hear of it when Todd Frazier won it two years ago.
Billy Hamilton, will receive a specially designed trophy, suitably engraved, to commemorate his performance.
"Suitably engraved," huh? I guess that means no cusses.