December 8, 2010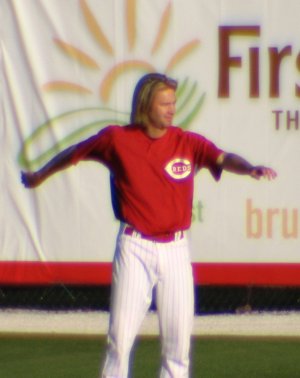 Lost in our posts about RedsFest was the fact that the Cincinnati Reds agreed to a contract extension with Bronson Arroyo.
The deal is for 3 years and $35 million, keeping Arroyo under contract through 2013. Earlier in the off-season, the Reds had picked up Arroyo's $13 million option for 2011. This contract replaces that and adds on two more years. Also, John Fay has reported that a portion of the extension includes deferred money that will keep paying Arroyo until 2021.
Presumably, between the deferred money and the contract reworking, the Reds have shaved several million dollars off of payroll for next season. With the raises their arbitration-eligible players are set to receive, this will allow the club to meet their $80 million payroll target.
As for the extension, I was initially very skeptical about it. Of course, at first I misunderstood it's details, assuming that a 3-year extension meant Arroyo had added 3 years to his the end of his current option. Finding out that it simply overwrites and replaces 2011 makes it better. A 3-year deal is always less risky than a 4-year deal, even with Arroyo's spotless injury history.
Arroyo will be 34 starting next season, which means he'll be 36 when this contract is up. Even with the Reds surplus of young pitching, I think this deal makes sense. All of the other starters are young and inexperienced. Given Arroyo's track-record, I think it's a reasonable expectation for him to maintain what he's done next year, before dropping off a bit for the next couple years. By then, the young starters should be established and able to take on the veteran leadership for the next crop of pitchers.
Also, it does cement the Reds position of having what every major league baseball team desires and what I don't believe the Cincinnati organization has ever had: a surplus of good, young starting pitching.