March 11, 2009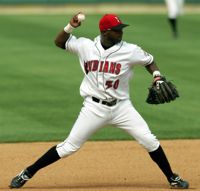 In case you had an unfortunate accident yesterday wherein a giant boulder rolled right on top of you, you might have missed that the Netherlands beat the heavily favored Dominican Republic in the World Baseball Classic.
No, that's not a repeat of the other time the Netherlands beat the Dominicans. This time, it hurts more, since the WBC is a double-elimination tournament, at least in the first round. (Figuring out how the tournament works is damn near impossible from the WBC site. MLB loves usability experts as much as Marty Brennamen loves Adam Dunn.)
The Dutch advance thanks to the incompetence of Chicago Cub Carlos Marmol. That's right, in the bottom of the 11th, he must have had a goat in his eye when he threw wildly to first, allowing the tying run to advance all the way to third. After that, I had a feeling he was toast. Cubs don't exactly have a history of succeeding, especially in the face of adversity.