March 19, 2009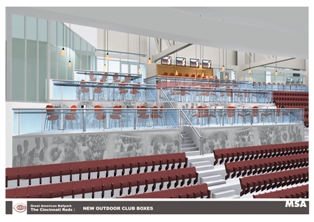 CINCINNATI (March 16, 2009) — Reds fans can bid now on reds.com for seats in the new Champions Club Boxes on Opening Day.
The Champion Club Boxes feature an outdoor bar area and in-seat service, in addition to access to the new all-inclusive FOX Sports Ohio Champions Club and its unlimited food and non-alcoholic beverages.
Packages of four, six and eight tickets are available, with auctions ending either Friday, March 20, at noon ET or Friday, March 27, at noon ET.
Place your bids here on the auction site.
The FOX Sports Ohio Champions Club (formerly known as the FSN Ohio Club 4192) is located on the first base side of GABP. The 2009 Opening Day game is Monday, April 6 vs the New York Mets. First pitch is 1:10 p.m.
All proceeds from the Champions Club Box auctions will benefit the Cincinnati Reds Hall of Fame and Museum. All winning bids will receive annual memberships to the Reds Hall of Fame and Museum.