March 25, 2009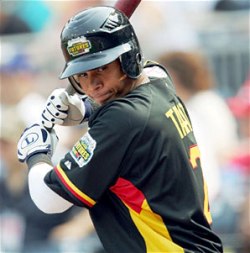 For the first time in years, the RHM family is unable to attend Spring Training, and this happens.
The Pirates acquired Jose Tabata, a top Yankees prospect, last year in the Xavier Nady trade. Apparently, during the off-season, Jose married Amaila. And Amaila has been arrested for kidnapping a 2 month-old baby. WTF?
Jose hasn't been implicated and seems to be as surprised as everyone. Hopefully that remains the case.
My favorite part of the article is this, though.
Amaila Tabata Pereira was found with 10-pound Sandra Cruz-Francisco standing at a street corner in Bradenton, Florida.
Now, I haven't cracked open my Kidnapper's Bible in a few years–heck, there's probably even a revised version by now–but that doesn't seem like the best way to get away with a kidnapping. Maybe she was waiting for the kidnapper's getaway bus.