April 13, 2011
I have so many disjointed baseball thoughts this evening, that I am going to whip out a page layout mechanism I used to use all the time–bullets. They're even shaped like little baseballs: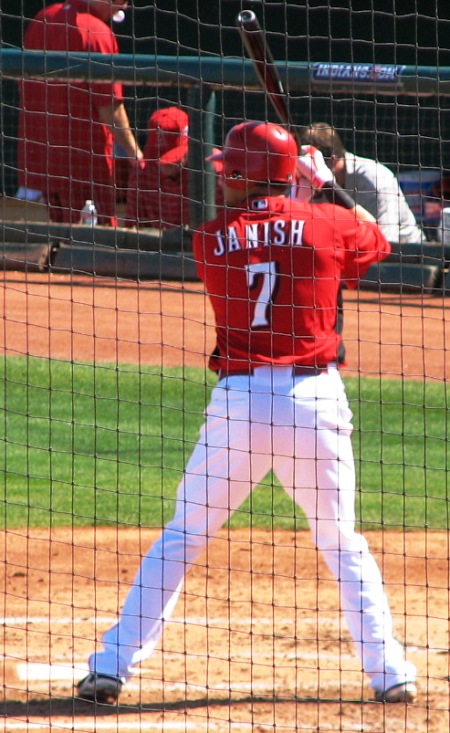 Broadcast in Technicolor I *hate* watching baseball in standard definition. I want to blame DirectTV for the fact that tonight's game looks like I'm watching it through wax paper, but FSOhio sent me an email last week talking about how HD wouldn't be available, which I guess means it's their fault. I had lunch with a bunch of tech geeks today, and they all seem to have gotten rid of their television service entirely in favor of streaming programming from the internet to their televisions. I wonder whether the internets has the game in HD. It would work over dial-up, right?
It Wouldn't Matter if He Crapped Autographed Gold Ingots The Cowboy felt the need to defend Paul Janish after he popped out with the bases loaded in this game. A completely badass defensive shortstop, batting eighth no less, needs defending when he's batting .353 in his first 34 ABs? Only in Cincy.
Wardrobe Malfunction The ump just stopped Jordan Smith to make him adjust his sleeves to show the same amount of red peeking out from both sides of the jersey. Fashion police anyone?
Call Him Sunny D Joey Votto is a concentration machine. The fresh-squeezed orange juice he drinks in the morning comes out as frozen concentrate a half hour later. If you're going to beat this guy, you have to be better than him because he's not going to give away anything. I think that has to be influencing the rest of the team too; I mean, you can't boot a ball and expect everyone to be all like, "hey, it happens to everyone" in this dugout. At best, it would be like, "hey, it happens to everyone except Joey."
Down Boy It makes me sad that no one on the TV broadcast has mentioned Chris Denorfia coming up with the Reds, let alone called him "Hearththrob." For old time's sake, I've barked like Dino whenever he's come up to bat, but it just isn't the same.
And a bonus bullet, not about baseball stuff, but just a real head-scratcher:
I Wish for 1,000,000 State Farm Agents When your kitchen table and/or ornamental birdbath are pulverized by the magical appearance of the crap you wished for from your own personal State Farm genie, are the damages covered by State Farm?