July 30, 2012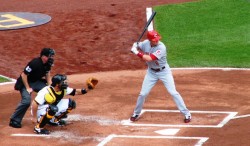 This afternoon, the MLB Network announced that Cincinnati Reds center fielder Drew Stubbs had won the National League Player of the Week award for July 23 – July 29. He shares it with Carlos Gomez of the Milwaukee Brewers.
Stubbs, who helped lead the Reds to a 6-0 mark last week, hit .370 (10-for-27) and tied with Gomez for the N.L. lead in RBI (10) and stolen bases (3). The eighth overall selection in the 2006 First-Year Player Draft ranked second in the N.L. with nine runs scored and was tied for second in hits while finishing third with three home runs and 21 total bases. On July 24th, the Texas native went 3-for-4 with a go-ahead homer in the ninth inning off Houston closer Francisco Cordero en-route to a 4-2 victory at Minute Maid Park. The following night, Stubbs paced the Reds offense, going 2-for-5 with two doubles, two runs scored and three RBI as the Reds capped a four-game sweep at Houston with a 5-3 victory. The right-handed-hitting slugger notched his 12th homer of the season in Sunday's 7-2 win over the Rockies while collecting his team-leading 21st stolen base as the Reds completed a three-game sweep at Colorado. This is Drew's first career weekly award.
Does that make it easier or harder to trade him by the deadline tomorrow? On the one hand, he's increased his trade value a bit by showing how good he can be, but on the other hand, in showing the Reds how good he can be, maybe he doesn't need replacing after all.
None of the options that the Reds have been linked to–Juan Pierre, Denard Span, or Shane Victorino–strike me as so much better than Stubbs that the Reds should obtain them no matter the cost. With Joey Votto about to return, I might not be too upset at Walt Jocketty for doing nothing again.