Blog Archives
January 29, 2007
Kirk Craig Saarloos was born May 23, 1979 in Long Beach, California. He attended college at Cal State Fullerton and made his major league debut on June 18, 2002. Saarloos (rhymes with Carlos) is married to Kristen, but his MLB profile page doesn't mention any kids.
Really, the whole reason I put together a Human League entry for Saarloos was just an excuse to link to this article that I stumbled upon this evening. It comes from Examiner.com, out of San Francisco, where author Mychael Urban has a lot of love for Saarloos's approach to the game:
Granted, kids typically gravitate to players who put up big numbers and appear nightly on highlight shows, and Saarloos — rhymes with Carlos — does neither. So anonymous is he that even if you wanted to pick up a No. 31 jersey at McAfee Coliseum last year, you'd have been out of luck.But the fact that he's so anonymous is a sad commentary. This is a young man who embodies everything right and good about sports, yet he's continually overshadowed by the criminals, cheats and look-at-me athletes who pollute our daily sports sections.

Saarloos was an accomplished collegian, a first-team All-American. But he's barely 6 feet tall, well under 200 pounds, right-handed and rarely tops 90 on the radar gun, so after being drafted by the Houston Astros, he essentially dropped off the baseball map.
…
We want our role-model athletes to overcome adversity, right? With his mother battling breast cancer during spring training 2005, Saarloos took his heavy heart to the mound — hiding a cancer-awareness bracelet in his back pocket — and won a spot in Oakland's starting rotation.

We want our role-model athletes to carry themselves with class, too, right? Saarloos bounced between the bullpen and rotation so often in 2006 that he had never had the luxury of routine. Not only did he not complain, he picked up a save and a win (as a starter) in one memorable six-day span.

And we want our role-model athletes to be humble. Asked if he was going to contribute to Barry Zito's Strikeouts for Troops program by donating $100 for every strikeout he records, the soft-tossing Saarloos said, "I think it'd be better for the soldiers if I gave them $100 for every batter I hit."

So what if he doesn't light up "SportsCenter"? He does his job well, stays out of trouble and keeps everything in perspective. So find out what number Saarloos is wearing with the Reds, order a custom jersey and give it to your kid.
Sure sounds like a sweetie, huh? He sounds downright Sean Casey-esque. We touchy-feely types here at Red Hot Mama will be watching his career with great interest.
January 29, 2007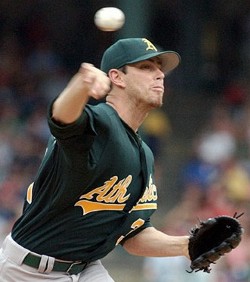 Kirk Saarloos came to the Reds on January 23, 2007 from the Oakland A's in exchange for one RHP David Shafer. Saarloos is also a right-handed pitcher, but one that figures to be in the running for the fifth spot in the Reds' rotation during the 2007 spring training.
We haven't seen anything out of Saarloos yet to know what he's got to offer, but I understand he's a ground ball pitcher, so even if he doesn't make the rotation, he may have something to contribute out of the bullpen. I understand he bounced back and forth for the A's.
Saarloos was quite the college pitcher, leading Cal State Fullerton to a College World Series appearance in 2001; he went 15-2 with a 2.18 ERA in 25 games (18 starts) that season. But his claim to fame is 1 1/3 innings of work in 2003 when he was one of six Astros pitchers to combine for a no-hitter in Yankee Stadium.
Here's what HMZ, aka The Crack Hard Facts Staff, has to say about Saarloos:
Fast Tidbit from the CHFS on our new pitcher, along with a spelling mnemonic of sorts for our lovely and talented hostess, RHM: Saarloos (rhymes with Carlos…and Vanna must be getting desperate because vowels are two for the price of one this week) was one of the six Astros pitchers who combined to no-hit the Yankees in The House That Ruth Built on June 11, 2003. The other five were Roy Oswalt, Pete Munro, Brad Lidge, Octavio Dotel, and Billy Wagner.Saarloos throws a 4-seam fastball, a curve, a slider, and a change, but his best pitch is his sinker, which I'm told is generally mid-to-high 80's on the radar gun.

So the Reds may have their fifth starter for 2007, and the A's may have their closer for 2010. The teams also swapped PTBNLs. Good. I always find it interesting to keep track of who owes who a player.

Idle Speculation Department (Saarloos Division): Someone in ASBCR suggested that maybe Kriv-Dawg just got his closer. I balked at that notion initially because Saarloos' ratio of strikeouts to innings pitched was third to last in all of MLB in 2005. Since then, though, I've done some more research and discovered that as a sophomore and junior at Cal State Fullerton, Saarloos was one of the best closers in college baseball. He became a starter as a senior, and Chad Cordero took over as the closer. Cordero, of course, is now Bowden's closer in Washington.

So yeah, maybe Wayne did just slip his closer in under everybody's noses.