December 12, 2005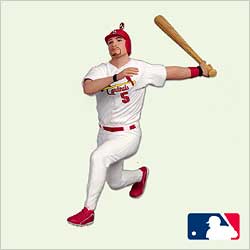 Though the weary Reds fans travelled long and far, following the shining wishbone C glinting on the horizon, alas, there is no room at the inn for Reds merchandise. Fans of Cincinnati baseball must take shelter in the stables, for our team's marketing bites hard.
Target has 9″ figurines of Mark McGwire and Cal Ripkin, Jr. (which have been hanging on the same rack in the back of the toy aisle for at least a year). The Hallmark store is sold out of Albert Pujols Christmas tree ornaments. The calendar kiosk in the mall features calendars of the Cubs, Cardinals, Red Sox, Yankees, and one devoted entirely to Derek Jeter. The sporting goods store is drenched in Colts blue without so much as a drop of Cincinnati Red. The airbrushed shirt stand was overflowing with "Tampa Bay Will Have It's Day!" t-shirts.
OK, I made that last one up, but the rest are real. Here in east-central Indiana, where Cincinnati is but a mere 2 1/2 hour jaunt compared to the 5 hours to Chicago or St. Louis, I visited countless stores in three different malls, plus several department stores and saw exactly one piece of Reds merchandise.
The single, solitary piece of Reds merchandise that I saw in all of my travels was at the kiosk with the giant tins of popcorn. Team logos screamed to passers by at eye-level from the tins stacked high in the middle of the floor, but the one displaying Mr. Baseball, less than half the size of the others, was crammed out-of-the-way and out-of-reach on the roof of the kiosk, as if the proprietor hadn't actually meant to bring it with him to the mall and was just looking for a place to stick it until he could find an appropriately cruddy dumpster to deposit it in.
Complain about Dan O'Brien if you like. Say that the ownership has fostered a cheapskate culture where pinching pennies is more important than winning. Bitch about the players, the dedication, the conditioning. All of these concerns are legitimate to some degree.
But when you can't even buy your kid a Ken Griffey, Jr. action figure with kung fu grip, well, that's just blasphemy.