December 16, 2005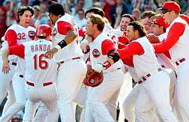 PITTSBURGH, PA -- After trading for Cincinnati Reds' first baseman Sean Casey and courting former Red Joe Randa, Pirates' general manager Dave Littlefield revealed plans today to sign the entire Cincinnati 2005 opening day infield.
"Don't you remember the Reds' opening series last year?" Littlefield responded when asked about his plan. "I want to bring that kind of excitement to the great city of Pittsburgh."
Littlefield and Reds' general manager Dan O'Brien are in talks to trade Reds' catcher Jason LaRue for the Pirates' shortstop, Jack Wilson.
"I'm hoping this move will make the Womack trade look better by comparison," explained O'Brien. "Besides, we can't go into spring training without someone to start ahead of [Felipe] Lopez."
Negotiations with shortstop Rich Aurilia are moving quickly. "I want to play every day," said Aurilia. "I haven't displaced a younger, faster, better shortstop in almost a year now, and I'm getting kind of anxious."
Casey described Littlefield's plan as "awesome," though rumor has it that he is holding up talks with second baseman D'Angelo Jimenez.
"He's just mean," said Casey.
Littlefield says he has a backup plan in case he cannot come to an agreement with Jimenez.
"Barry Larkin's still in good shape, right?" said Littlefield.
If Littlefield can succeed in his goal of emulating the 2005 Reds, he may well pull off the most exciting start to a Pirate's season in recent memory. Of course, the wide-eyed enthusiasm will fizzle immediately after the first series, leaving the fan base completely dejected by the middle of June and finishing the season in fifth place in the division.
"But that's one place higher than we ended last year," said Littlefield. "A step in the right direction."