December 22, 2005
Yesterday the Reds convinced catcher Jason LaRue to sign a two-year contract:
The deal allowed LaRue to avoid arbitration with Cincinnati and ensured his spot as the team's starter behind the plate. The 31-year-old will earn $3.9 million in 2006 and $5.2 million in 2007. If he is traded after Oct. 15, his 2007 salary jumps to $5.45 million automatically.
I'm psyched. LaRue is a good catcher, a hell of a guy, and just as hot as can be.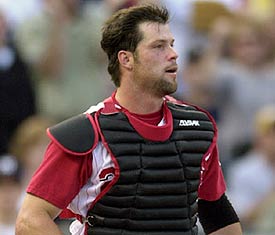 I caught a little bit of Andy Furman interviewing LaRue on WLW last night. He talked about being ready to step into the leadership role of the team, which will be a good thing. LaRue has a harder edge than Sean Casey could provide, but he still embodies the down-home goodness that has come to be a hallmark of the Reds culture. Maybe this nice guy won't lead the team to finish last for a change.
LaRue sounded more confident than I remember him being. I guess a good year will do that for you. And smarter, too, laying down some pretty sharp sarcasm a couple times. He's so good-looking that I think I assume he's not bright, and that's really not fair. I mean, if being attractive always made you vapid, then the Red Hot Mama's head would be as empty as the red level at Cinergy in August. Or, at least the yellow level.
LaRue got bonus points in my book for calling Furman "Seg" twice.
Back when I was doing the research for LaRue's Human League profile (which is in dire need of re-writing), I stumbled upon these entries at Outsports: The Home for Gay Sports Fans and Athletes. LaRue was very well-liked there, as evidenced by the fact that he was awarded the 2001 Brass Balls Award for Catchers and then named the Hot Red the next year. The same writer did both pieces, and I'd like to say that he has excellent taste, except he nominated David Eckstein for the Rookie Brass Balls award. Ew.
So, long-story-short: I'm pleased that we'll be enjoying the stylings of LaRue behind the plate for a while longer.
Now to lock-up the Latin Love Machine.