December 23, 2005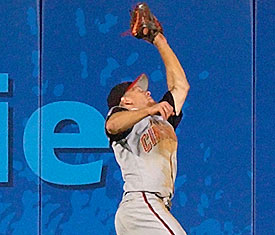 After so much talk about the importance of upgrading the rotation, here we are at the end of December, and the most excitement we've gotten out of our off-season transactions has been in the infield. Our beloved first baseman is gone, our third baseman is still a source of uncertainty, and we have something like six potential second basemen.
The situation at second base is interesting, isn't it? It sounds like everyone assumes that if Rich Aurilia comes back, second base is just his. But if Aurilia doesn't come back, it's a fight between Ryan Freel and Tony Womack.
Womack has said in the papers how he intends to go out and win the position, even after the Reds said that they planned to use him as a utility player. Meanwhile, Freel has said in the papers that he's not bothered by the Womack signing and doesn't even really mind if he's the starter at second.
Last year, Aurilia was sort of like Womack is now, and Aurilia *did* manage to win a starting job out of spring training. But last year's Lopez wasn't like Freel is now. No, this year's will be a different kind of contest entirely.
I wonder whether Freel even wants to commit to second base. After all, what are the benefits of having a regular starting job over being the super-sub?
More money. That's not really an issue for Freel now that he's got his multi-million dollar contract. With as much as manager Jerry Narron managed to squeeze Freel into the line-up last season, being a regular starter wouldn't even make Freel more likely to meet his incentives.
More respect. At least, that used to be the case, but I think that Freel himself is changing that perspective. Nowadays, people talk about the entire class of super-subs as "Ryan Freel-type players" and rave about how undervalued they are.
It's easier. But this is Freel we're talking about. He wouldn't *want* an easier job. His personality is going to strive to take on the most difficult challenge available.
Freel can take his prove-it-can-be-done attitude into spring training and completely blow Womack out of the water. Which would land him the starting job, which would get him an easier job and nothing to prove. Exactly what he wouldn't want.
Alternately, Freel can try to suppress his personality and go into spring training, take it easy now that he has his contract, keep himself healthy, and lose the starting job to the fired-up Womack. Which would get him the super-sub job he's so well-suited for, while requiring him to change the very part of himself that makes him well-suited for it.
Did I mention that he's also his own grandpa?
Quite a conundrum Freel has here. Unless, of course, the Reds bring back Aurilia. In that case, Aurilia gets second and Freel can go about his business of blowing Womack out of the water in the competition for the greatest super-sub. Freel may well suddenly be Aurilia's number 1 fan.
Either way, it's more interesting than the starting pitching.