May 6, 2007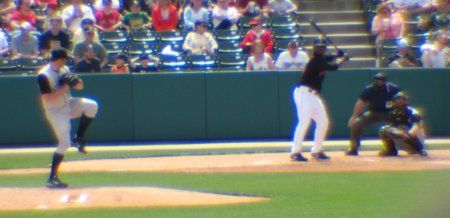 The family and I drove to downtown Indianapolis this afternoon to witness the match up between the Pirates' AAA affiliate, the Indianapolis Indians, and the Reds' AAA affiliate, the Louisville Bats.
One of my personal faves, Tom Shearn, took the mound for the Bats. Seven innings later, he'd given up just one run on five hits. A very nice outing. Wes Wilkerson finished the game out without allowing so much as a hit.
On the offensive side, the Bats came through with hit after hit. 13 when it was all said and done, resulting in eight runs. Names you might recognize bringing in runs for our Louisville friends: Aaron Herr, Mark Bellhorn, Jeff Bannon, and Chad Moeller.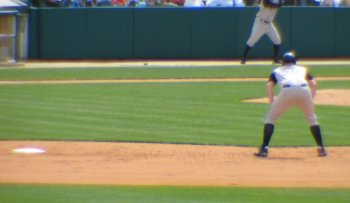 This was the first time that we bought the lawn seats and sat on the berm at Victory Field in Indianapolis, and I must say that I highly recommend it. You have to find a spot in extreme left field if you want to be able to see the big scoreboard, but if you're OK with just the score and the inning, where we were sitting just left of center is great. Not only do you have the option of lying in the sun to watch the game, but you get super-close views of the center and left fielders both diving for a ball deep in left center and both missing it. You can actually hear them grunting as they hit the ground.
Plus, if you stay on the grass you can bring in your own food. Since we're trying to be frugal while we're paying for two mortgages and daycare, we carried in a cooler filled with Capri Suns and Jon's Famous Lunch Meat and Barbecue Sauce sandwiches. Good luck getting those at the concession stand!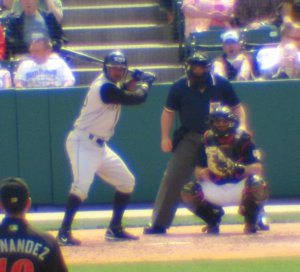 After the game, Knothole Club Members and kids who were there for the big Cub Scout outing were invited to run the bases. There must have been a few hundred kids who lined up to take part in that particular event. I bet the Victory Field grounds crew is going to have a good time cleaning that up. On the other hand, each of those kids weighs, like, 50 pounds, so maybe it doesn't make a difference.
Anyway, back to the game. The win brought the Bats' record to 14-15, tied for second in their division and three and a half games back on the Indians. Tomorrow they return home to face Ottawa.