November 5, 2007
The Pirates finally ended the managerial suspense today when they named John Russell as the next guy to try to right the ship. From the press release:
The Pittsburgh Pirates today announced that John Russell has been hired as the 38th manager in team history. The announcement was made by senior vice president and general manager Neal Huntington.

Russell, 46, spent the last two seasons as the Triple-A manager in the Philadelphia organization. He was named the International League Manager of the Year after guiding Scranton/Wilkes-Barre to the Northern Division title in 2006. Russell, who served as manager at the 2007 International League All-Star Game, managed Ottawa last season.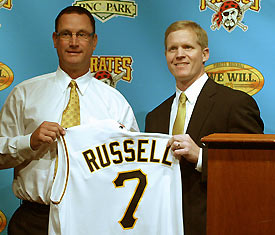 There's also a letter to the fans from the general manager. Letters from the general manager? That won't last.
Dear Pirates fans:

I am extremely excited to officially announce today that we have hired John Russell as the new manager of the Pittsburgh Pirates. John's hiring is another significant step in the process of changing the culture of this organization to a culture of pride, passion and excellence.

Throughout the process it became clear that John was the top choice to lead our ballclub. His positive energy, intense passion for the game and strong managerial experience set him apart from every other potential candidate we considered.

John has been extremely successful getting the most out of his players in his 10-plus years of managing. During his Minor League managing career, John was a two-time Manager of the Year and twice selected by Baseball America as a top managerial prospect.

John is a great teacher of the game, an exhaustive communicator and tireless worker. He will hold himself, the coaching staff and our players accountable for being the most prepared and hardest working club in Major League Baseball. He will ensure that our players continue to improve at the Major League level and play with the pride and passion we, and you the fans, expect of them.

He brings a focused intensity to the managerial role and to our clubhouse. I am extremely confident in John and his abilities to manage our ballclub and instill in our players the sense of pride they should take in playing for the Pittsburgh Pirates. He shares our vision of how we will return the Pirates to a consistent winner.

Thank you for your continued support of the Pittsburgh Pirates.

Sincerely,

Neal Huntington
My favorite part is where he qualified "John has been extremely successful" with "getting the most out of his players." That can only say good things. And as if that weren't enough, this original sentiment always turns out to be true about new managers:
Speaking to reporters at PNC Park on Monday, Russell, 46, used the words "accountability," "discipline," "pride" and "passion." Those were adjectives Russell believes will be attached to the club moving forward, and are words that Huntington believe already describe the man that he brought in to replace Jim Tracy.
Pat at Where Have You Gone, Andy Van Slyke fails to be outraged:
I can imagine that a lot of people's thoughts today run along the lines of, "We looked for a month and we ended up with this guy?" The truth is, most managers are incredibly similar.
While Jake at Bucco Blog takes a somewhat firmer stance:
Some will suggest the proper thing to do would be to give Russell a chance before blasting him, but since he's already proven to be total garbage in Pittsburgh, why wait?
And what do I think, you might ask, seeing as I'm supposed to be a Pirates blogger these days. Well, I'm just so psyched to see that they picked up Phil Dumatrait, I can't even think of anything else.