November 16, 2007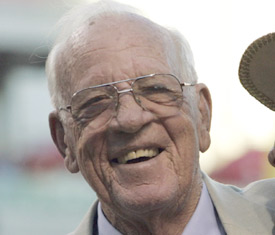 Having been rounding third and heading for home for over 79 years, Joe Nuxhall finally slid in under the tag last night.
Nuxhall, probably mostly anonymous in any other city, was a super celebrity in Cincinnati. The Ol' Lefthander began his association with the Reds in 1944 when he broke the majors at the age of 15. Back then, that nickname would have been ironic. He was the youngest major leaguer ever, and always will be unless they change the rules. Which I guess is possible, given the popularity of the Little League World Series.
Nuxhall was really bad when he first came up, by the way. He gave up 5 to the Cardinals, if my memory of the song serves. I mean, he was 15. But a little seasoning led to a lengthy major league career, after which he was a celebrated broadcaster for 700 WLW for 31 years. People whose fandom predates mine, people who grew up listening to him on the radio, feel a real bond with Nuxhall, even though he may have been best known for mixing up the fields. It's all part of the charm.
Local advertisers and the Reds Community Fund are going to feel the loss of Nuxhall, who always seemed to be present at promotional events. He played golf for charity, signed autographs at the Reds Hall of Fame, and shouted out answers from the audience during the trivia contest at Redsfest last year.
Nuxhall was a good fan and a good guy. Cincinnati is going to miss him.