February 3, 2008
Yes, it's Super Bowl Sunday, and I'm writing about baseball. But I suppose I should take a moment to acknowledge the NFL's premier weekend and the matchup between the New England Patriots and the New York Giants. I'll qualify my remarks by stating for the record that the opinions expressed in this post are entirely my own and do not necessarily represent those of Red Hot Mama (the person or the blog).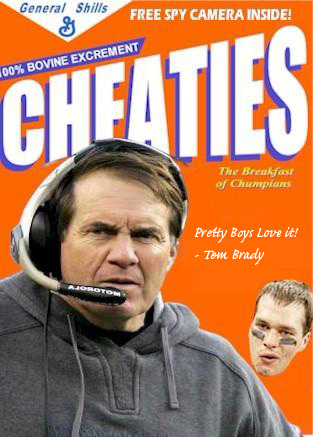 My opinion of this year's Super Bowl is pretty much summed up by the included graphic, which should appear at left if I've done my editing properly.
I was not born in time to catch Russ Hodges' legendary 1951 "The Giants Win The Pennant!" call, but if you happen to talk with Bill Belicheat today, you can tell him I have the sound clip cued up on my other computer and hope to be able to make good use of it some time around 9:30 EST tonight.
Now, back to baseball. That's what you came here for, right? Amanda (coincidentally, the song with that name, recorded eons ago by the group Boston, is playing on the radio here as I type this) has already reported two of the major items for this week's recap of player transactions in the National League Central, namely that Ray Olmedo (better known as Little Ray Ray to RHM regulars) has landed back in the NLC, and that the Reds have signed two players, one a hometown boy and the other a former Reds prospect, to minor league deals with invitations to spring training.
Olmedo, a former Red and a longtime fan favorite here on RHM, was claimed off waivers by the Pirates on Friday after being DFA'ed by the Toronto Blue Jays, who had hoped to outright Little Ray Ray to the Class AAA Syracuse Chiefs and invite him to Spring Training.
Meanwhile, the Reds signed LHP Scott Sauerbeck and C Paul Bako to minor league deals with the obligatory invitations to spring training, returning both players to the NL Central.
Sauerbeck was born in Cincinnati, and attended Northwest High School, where he played soccer, basketball and, of course, baseball. He previously pitched in the NLC as a member of the Pirates. He'll go down to Sarasota and compete for a slot in a suddenly crowded Reds bullpen that already includes southpaws Mike Stanton, Bill Bray, and Jon Coutlangus (as well as Jeremy Affeldt if he doesn't start).
Bako was originally signed by the Reds in 1993 after he was their fifth round pick in the amateur draft, and has since played for the Astros, Brewers, and Cubs as well as several other major league clubs. Bowden must be livid, he not only missed a shot at landing another former Red, but the player in question has now actually become a current Red! He probably becomes this year's Chad Moeller. But since he has 1400 or so more major league at-bats than Ryan Hanigan, the guy who figured to get the call from Louisville if David Ross or Javy Valentin were to get hurt, Bako's signing adds some potentially valuable depth at the position.
Other NLC transactions for the past week:
On Tuesday, the Astros signed RHP Brian Moehler (who is also a former Red) and IF/OF David Newhan to minor league contracts with the usual invitations to spring training.
On Thursday, the Reds avoided arbitration with RHP Matt Belisle by signing him to a one-year, $1.25 million contract. The deal, which leaves Brandon Phillips as the only remaining unsigned, arbitration-eligible Red, reportedly includes a chance for Belisle to make up to $100,000 in bonuses for innings pitched. Matt, who worked 177-2/3 innings last year, would earn $25,000 bonuses for reaching 175, 185, 200 and 210 innings.
Also on Thursday, former Astros IF Morgan Ensberg was signed to a minor league contract with invitation to spring training by the Yankees. Which is not really an NLC transaction, but I include it here for the enjoyment of readers following the careers of those who have escaped Houston.
The previously reported deals involving Olmedo, Sauerbeck, and Bako went down on Friday, and as far as I know, nothing has been reported in the NLC so far this weekend, although former Reds pitcher Esteban Yan landed in Baltimore with a MLCWSTI (Minor League Contract With Spring Training Invitation…remember that acronym because you'll probably see it again), and as Zeldink already reported, Sean Casey demonstrated his affection for the color Red this week by signing on with Boston for 2008.
And now I must go. My work here is finished, and I want to leave plenty of time for sticking pins in a certain Tom Brady voodoo doll (unless I can find my stash of railroad spikes instead).