January 9, 2012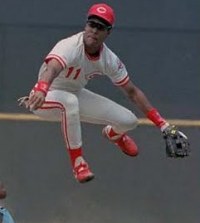 Over at Hardball Times, Chris has put together a list of some of the high- and low-lights of the career of the newest inductee to the Baseball Hall of Fame, one Mr. Barry Larkin.
I skipped ahead to 2000 and I found one I like:
April 20, 2001: It's taken 1,823 games and 7,712 plate appearances, but Larkin finally collects his first career grand slam when he goes deep against Al Leiter of the Mets in the second inning. It's his 142nd time facing a pitcher with the bases loaded. It proves to be the difference as Cincinnati wins by four, 9-5.
And this one:
Aug. 2, 2002: In the space of 19 pitches, Cincinnati Reds catcher Jason LaRue allows three passed balls. That's right, a knuckleball pitcher is on the mound (Jared Fernandez). Larkin goes 0-for-3 with a GIDP as the Reds lose.
Not really sure what that one had to do with Larkin, but it's funny.
Of course, for me, the most important moment isn't found on this list. For me that most important moment is the one where Larkin led off the first Reds game I ever saw in person, and managed an infield hit. That's the good stuff.