January 15, 2012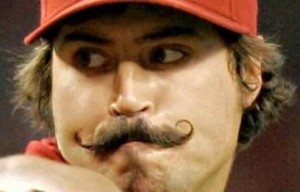 This weekend, the Cincinnati Reds signed a couple pitchers to minor league contracts with invites to Spring Training camp. Ron Mahay and Clay Zavada, both left-handed pitchers, will compete in Goodyear this Spring for major league spots.
Mahay is a journey-man pitcher who, at 40 years old, is clearly at the tail end of his career. Last year, he had a successful year with the Minnesota Twins, posting a 3.44 ERA (119 ERA+) over 34 innings.
Zavada was in the Arizona Diamondbacks' minor league system before being released. Last year, he was with the AA team and made no appearances in the big leagues. His only major league experience was with the Diamondbacks in 2009, when he posted a 3.35 ERA (134 ERA+) over 51 innings.
Of course, the most important thing Zavada brings are his handlebars. He sports one of the finer mustaches in the league and will certainly be bringing some competition to Sam LeCure, Corky Miller, and Mr. Redlegs.