January 21, 2012
It's been painfully quiet on the Reds news front lately, hasn't it? If there were anything real to talk about, I wouldn't be screwing around with second-place finishes in fake awards.
But there isn't and I am, so here we go.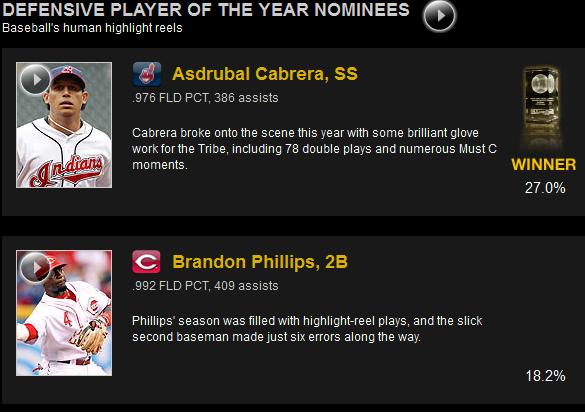 If the two stats provided here were the criteria by which this award is intended, then Phillips actually won. But since it's a voting thing, he lost out to Asdrubal (like regular Drupal, only even harder to use thanks to the ass).
Not that I'd kick Cabrera out of the infield for eating crackers, but I think we all know that Phillips only lost this vote-a-thon because we're all so confident in his superiority that we didn't need to prove anything to the internet with a bunch of clicking on the Vote button.
Don't worry guys: the Reds Caravan is coming to town next week, and we'll have some actual stuff to talk about then.