January 23, 2012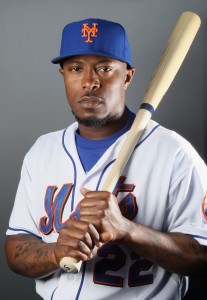 In a bizarre move that I can only attribute to sheer shame from Cincinnati Reds general manager Walt Jocketty, manager Dusty Baker today announced the signing of Willie Harris.
I understand that Jocketty's previous announcements have been pretty big and awesome–the surprise signing of closer Ryan Madson and the going-for-it-all trade for Mat Latos–but sending Baker out to do your work? It sounds strange.
Who is this Willie Harris? He may just be this year's Willy Taveras. At 33, he's played for 6 teams over 11 years. He's a speedy guy with lots of veterany goodness, but he's also quite versatile. He has experience in both the outfield and the infield. And he's also had some success getting on base, with a .330 career on-base percentage.
The Reds have little depth in the infield, so this signing of Harris to a minor-league contract with an invite to Spring Training does make sense. Should Zach Cozart and Scott Rolen both go down at any point in the season, then the bench would be quite thin. Should he make the club, let's hope he bears no resemblance to Corey Patterson.