February 27, 2010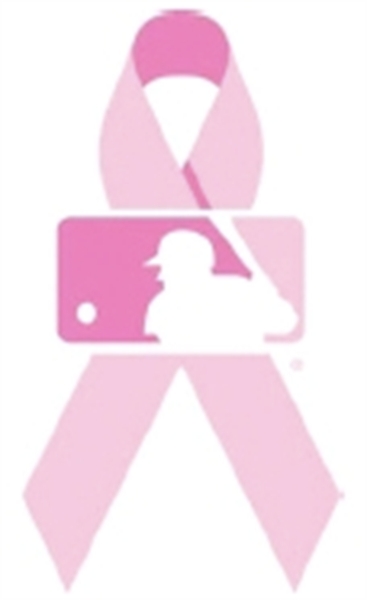 Major League Baseball® (MLB) and Susan G. Komen for the Cure®, the world's largest breast cancer organization, today launched the 2010 Honorary Bat Girl Contest, a campaign developed to recognize MLB fans who are Going to Bat Against Breast Cancer in their daily lives.
Men and women 18 and older can go online at www.mlb.com/honorarybatgirl to vote and enter to win a chance at becoming an Honorary Bat Girl during scheduled Mother's Day celebrations. Each Honorary Bat Girl will have an opportunity to take part in pre-game activities, be honored during an on-field ceremony and receive two tickets to the game and pink MLB merchandise. MLB.com, the official web site of MLB, has begun accepting fan submissions for the online contest that ends April 13.
During the six-week online submission period, baseball fans can share their stories of inspiration and hope of how they are supporting the fight against breast cancer and why they want to be an Honorary Bat Girl for their favorite MLB Club. Testimonials can be submitted by breast cancer survivors, advocates and supporters of the cause. A celebrity panel of judges will select the winning submissions, based on the following criteria: originality, quality of writing, demonstration of commitment to breast cancer awareness and public appeal as determined by online fan votes.
"Major League Baseball is very proud of the partnership we have forged with Susan G. Komen for the Cure," said Tim Brosnan, Executive Vice President, Business, Major League Baseball. "The launch of the Honorary Bat Girl campaign last year was a successful complement to our Mother's Day Celebration, and helped put a face on the millions of fans affected by breast cancer and further helped raise awareness for the cause."
The program was introduced in 2009 to raise additional awareness and support for the annual Going to Bat Against Breast Cancer initiative, a joint effort between MLB, its licensed partners and Komen for the Cure. Last year, more than 1,000 testimonials were submitted and nearly 2.2 million fan votes were cast.
"A day at Kauffman Stadium as Honorary Bat Girl was truly a memorable experience," said Jodi Guess Scruggs, Kansas City Royals 2009 Honorary Bat Girl Contest winner. "How rewarding to spend the day with my list of favorites; Royals, Major League Baseball, family/friends and supporting the fight against breast cancer with Komen for the Cure. Now that's what I call a day at the ballpark!"
On Mother's Day (May 9), Major League Baseball and its Clubs, along with Komen for the Cure, will celebrate the Going to Bat Against Breast Cancer initiative, which is designed to raise awareness about the breast cancer cause, while also raising funds to support breast cancer research.
"The stories of these breast cancer survivors and their families are so inspiring and compelling – they provide an opportunity for all of us to truly understand the impact of breast cancer and the urgency we feel at Komen to end this disease forever," said Katrina McGhee, Senior Vice President, Global Business Development and Partnerships, Susan G. Komen for the Cure. "Programs like this help Komen provide education, screening and direct help for women and men in our hometowns, while also funding the global research that is leading us to cures for breast cancer."
In 2009, Komen provided funds for almost 500,000 breast screenings and for treatment and support programs in 1,900 communities nationwide and around the world, along with funding more than $60 million in research.
Hundreds of MLB players will use pink bats by Louisville Slugger, the Official Bat of Major League Baseball, stamped with the MLB breast cancer logo. To further demonstrate their support for the breast cancer cause, players and on-field personnel will wear the symbolic pink ribbon on their uniforms along with pink wrist bands. Commemorative dugout lineup cards also will be pink.
In addition to promotional support, Major League Baseball Charities has committed $50,000 to Susan G. Komen for the Cure. Game-used Louisville Slugger pink bats will be auctioned off at MLB.com at a later date to raise additional funds for Susan G. Komen for the Cure. Fans can purchase their own personalized pink bat at www.mlb.com or www.slugger.com, with $10 from the sale of each pink bat benefitting Komen for the Cure.
Major League Baseball Health Initiatives
The Mother's Day Going to Bat Against Breast Cancer program is one of several cancer-related initiatives supported by Major League Baseball. Other initiatives include:
Stand Up To Cancer (SU2C), whose mission is to support the groundbreaking scientific research aimed at getting new cancer treatments to patients in an accelerated time frame
the Prostate Cancer Foundation Home Run Challenge which helps increase awareness of prostate cancer and raise money for the search for a cure as part of Major League Baseball Father's Day activities
Play Sun Smart, a league-wide, season-long skin cancer awareness program in conjunction with the Major League Baseball Players Association and the American Academy of Dermatology.
About Susan G. Komen for the Cure®
Nancy G. Brinker promised her dying sister, Susan G. Komen, she would do everything in her power to end breast cancer forever. In 1982, that promise became Susan G. Komen for the Cure and launched the global breast cancer movement.
Today, Komen for the Cure is the world's largest grassroots network of breast cancer survivors and activists fighting to save lives, empower people, ensure quality care for all and energize science to find the cures. Thanks to events like the Komen Race for the Cure®, we have invested nearly $1.5 billion to fulfill our promise, becoming the largest source of nonprofit funds dedicated to the fight against breast cancer in the world. For more information about Susan G. Komen for the Cure, breast health or breast cancer, visit komen.org or call 1-877 GO KOMEN.