Monthly Archives: January 2010
January 30, 2010
The Red Hot Family is on the way to Stoops Automotive in Muncie to see the Reds Caravan, now that the hotly contested third grade basketball game is done. (Bobcats win!)
Listening to the extravaganza on AM 1340, and you can too if you're in greater east-central Indiana. Hope to see you there.
January 24, 2010

Am I wrong, or are there exceptionally long bills on these caps? I'm no headwear fashionista, but I think I would have noticed if the bills were 2/3 of the total length of the hat.
If the long bill trend continues, just think of the wacky high jinx that could ensue. Players looking down while running, hitting the bill of their cap against the ground, and catapulting themselves 15 rows into the stands. Or dashing to make a catch at the wall, only to suddenly impale the cap in the wall where it would stick like a dart in a dart board.
January 18, 2010
Over the years, the faces of the managers–both general, field, and otherwise–for the Cincinnati Reds have changed. But one thing has remained the same: their absolute disgust with the arbitration hearing process.
To that end, the Reds make it a priority to deal with any arbitration-eligible players before a hearing is ever needed. 2010 is no different.
The Reds had two players eligible for the ol' Arby's this year: Nick Masset and Jared Burton. Masset's name sounds familiar, but I don't actually remember much about him last year. He was a reliever who apparently pitched quite a lot, appearing in 74 games. I guess I know which games I was watching. Anyway, the Reds signed the 27-year-old to a 2-year deal worth about $1 million this year and about $1.5 million next.
As for Jared Burton, him I do remember. And I've always been impressed by his relief skills ever since the Reds selected him from Oakland in the 2006 Rule 5 draft. He's had problems staying healthy, but is usually very effective when he's not on the DL. To him, the Reds gave a 1-year deal worth $810,000. Hopefully, he'll stay injury-free in 2010.
Arbitration is one area the Reds excel at. They haven't gone to a hearing with a player since Chris Reitsma in 2004, whom they beat. They haven't lost a hearing since 2001 with Sean Casey. That one, they should have seen coming. Who can arbitrate against the Mayor?
January 14, 2010
January 28 to January 31 the Reds are sending out three troupes to visit the tri-state area, plus West Virginia, to parade them out for the die-hard fans who just couldn't wait till pitchers and catchers report a few weeks later.
Of course I'll be there.
The Reds Caravan is your opportunity to see people and things up you don't usually get to see up close and personal. For example, last year, the team brought Manager Baker to Muncie, Indiana for the stop I attended and I was treated to people wearing "In Dusty We Trusty" without a bit of irony.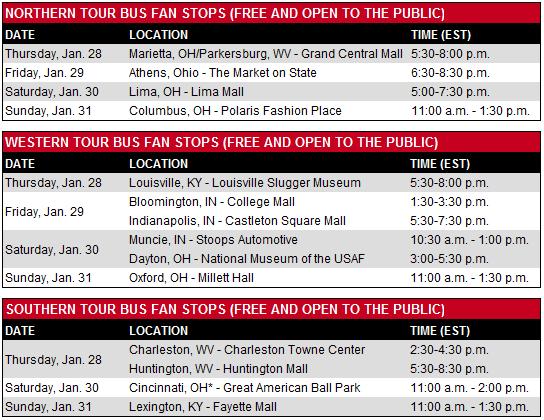 The Northern Leg of the tour will feature:
Marty Brennaman
Chris Welsh
Bob Miller
Brandon Phillips
Glenn Braggs
Chris Heisey
Gapper
The Western Leg will feature:
Thom Brennaman
Phil Castellini
Walt Jocketty
Todd Benzinger
Jay Bruce
Todd Frazier
Mr. Redlegs
The Southern Leg gets:
Jeff Brantley
Jim Kelch
Dusty Baker
Eric Davis
Paul Janish (Thursday/Friday only)
Adam Rosales (Saturday/Sunday only)
Zack Cozart
Gene Bennett (Thursday only)
Rosie Red
Those southerners are in for a treat. We got Rosie last year, and she is a delight.
Check out the full details for yourself on the Reds Winter Caravan page.