July 26, 2011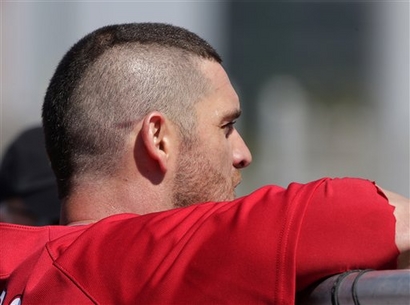 Which is nothing. See, that's the joke. (Though as Washington gets further and further from its Jim Bowden years, the situation is definitely looking up.) Not actually, nothing, of course. Here are the deets from Reds.com:
Gomes, a career .244 hitter with 115 home runs, is batting .211 with 11 homers and 31 RBIs this season. Washington traded pitching prospect Chris Manno and Double-A outfielder Bill Rhinehart to Cincinnati to acquire Gomes, who has hit .281 against left-handed pitching for his career.
Fox Ohio had a short little interview with Jonny Gomes before he took off for our nation's capitol, and he seemed kinda bummed. I guess it would be hard to be traded and not have it feel like a rejection, especially when this team has been primarily in tact for a really long time. But I don't see it as an insult to Gomes. The Nats were all over the Reds to trade for him, so clearly they really want him, and maybe he'll be a key component to take the Nats the way of the Pirates. He might as well try: the Reds sure as hell don't seem to be going anywhere this season.
The rest of the Reds seem kind lackluster today (though it's hard to tell compared to their recent play). They're always a little stiff at first in situations they're not used to: big crowds, post season, and now having a friend traded away. Just like the first two, though, they'd probably better get used to it.
Good luck, Gomes-y! We'll be cheering for you!