March 31, 2006
Covering the Bases by Bronson Arroyo
Bronson Arroyo Productions, LLC/ Manufactured and distributed by Asylum Records
http://www.bronsonarroyo.com/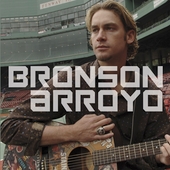 So we had Bronson Arroyo on the payroll for, what, 12 hours before Doc Scott at Reds & Blues felt the need to make some demeaning comment insinuating that Red Hot Mama has nothing better to do than to review players' music CDs?
Dammit, I wish I'd said it first. It's so much cooler to be self-effacing than to be effaced by someone else.
Bronson Arroyo's Covering the Bases is a collection of covers of 12 of his favorite songs from the 90s. Now, I was almost ready to forgive him for that until I saw this among his thank yous in the liner notes:
To my sister, Serenity, for never getting me into music in the eighties and ruining my musical taste.
What a punk. Doesn't he know it takes a real man to cover Wake Me Up Before You Go-Go?
But I digress. Arroyo is an above-average singer. You know how when you hear someone singing badly, you just want to cringe in embarrassment on their behalf? I never even once wanted to do that while listening to this CD. Occasionally he slips into impersonating the original singers instead of giving his own original rendition of the hits, but that's not really bad.
And if Mr. Arroyo had to cover 90s music, he at least chose some of the more palatable tunes from that era. Tracks include:
Slide by the Goo Goo Dolls
Down in the Hole by Alice in Chains
The Freshmen by The Verve Pipe
Everlong by The Foo Fighters with additional spoken-word lyrics by Stephen King. No word on whether the proceeds went toward the continuing fight against foo.
Black by Pearl Jam
Pardon Me by Incubus
Something's Always Wrong by Toad the Wet Sprocket
Plush by Stone Temple Pilots. This version is loads better than Jeff Conine's on Oh Say Can You Sing?.
Shimmer by Fuel
Hunger Strike by Temple of the Dog
Best I've Ever Had (Grey Sky Morning) by Vertical Horizon
Dirty Water by The Standells
That last one is an interesting one. Whereas the rest of the tracks are pretty standard fare Seattle alternative, Dirty Water is a bunch of New England jingoism that features several of Arroyo's then-teammates singing about what they like best about Boston. It's a stylistic departure from the rest of the album, and the comment about it in the liner notes is distinctly sparser than for the rest of the tracks. Despite its theme, it seems like an utterly replaceable track. I think that in future releases, he ought to slip in a cover of This One Belongs to the Reds instead.
In summary, Covering the Bases is a solid piece of music work and a nice addition to musical collection of any grunge and post-grunge era baseball fan. Those of us hoping for an album of covers of Wham! songs will just have to wait until Jim Edmonds comes out with an album.