February 26, 2006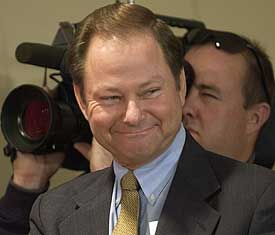 I went to the official site of the Milwaukee Brewers looking for some information about them signing my boy, Jason Romano. Instead, I was greeted with the smiling face of Dan O'Brien.
The article says that O'Brien is meeting with the front office for a few days, and it sounds like everything is a go for him to come on-board as a consultant. Brewers' general manager Doug Melvin specifically states that O'Brien will not be a threat to take the job of assistant manager Gord Ash. O'Brien was Melvin's assistant when Melvin was general manager for the Rangers.
Good to have buddies, I guess. Will O'Brien draw two paychecks this season? The Reds still have to pay him for 2006, you know.
The most intimidating quote of the story: "[O'Brien is] just a guy with a wealth of information."
Yeah, he's got a wealth of information…about the Reds. If we're not careful, they're going to find out about our bad pitching.