April 12, 2006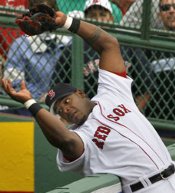 BOSTON, MA -- Having witnessed the emergence of Bronson Arroyo as a hitter since his arrival in Cincinnati, the Boston Red Sox are hoping to have similar success with Wily Mo Peña on the mound.
The Red Sox traded pitcher Arroyo to the Reds for outfield slugger Peña on March 20. Boston knew the power hitter Peña was a work in progress, but they didn't expect to lose home runs with the deal. While Peña's best demonstration of strength in the young 2006 season has come on a double, Arroyo has hit a home run in each of the two games he's started.
"We send our pitcher to Cincy and suddenly he's a hitter," said Red Sox general manager Theo Epstein. "It is logical that the inverse would also be true."
Peña will take the mound Saturday against Seattle. He's excited about the opportunity. "I can do this well," said Peña. "I know a thing or two about strike-outs."
Asked to comment, Reds' manager Jerry Narron was dismissive. "You think if Wily Mo could pitch we would have traded him?" he asked.
Still, Red Sox' manager Terry Francona is optimistic about Peña's performance on the mound. "The way I see it," said Francona. "He was already giving up home runs in right field, so this move can't make things worse."
"Besides," added Francona, "If we can make a good enough pitcher out of him, maybe we can trade back."