April 19, 2006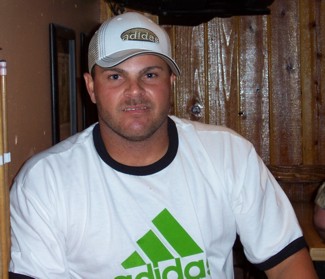 Javier Valentí­n is the Reds' switch-hitting back-up catcher. He'll put in occasional time at first base, which isn't ideal because his profile generously lists him at 5′ 10″, and the Reds infield really needs a bigger target than that. I've read that Javy has also put in the odd appearance at third, which just sounds amusing to me.
Of course, all of that is secondary to Javy's most important role of "Latin Love Machine." "LLM" for short. Which he is.
The LLM is a solid little hitter, especially left-handed, with way more power than you'd expect from a guy his size. Against Colorado, he once hit a grand-slam left-handed and a three-run home run right-handed in the same game. He was the first Red to hit a home run from each side of the plate since Pete Rose did it in 1967 and the first Red with seven RBI in a game since Robin Jennings did it in 2001. Look for the bat he used in the Reds Hall of Fame and Museum.
Javy got so hot in 2005 that he essentially shook the back-up tag and worked his way into a platoon. He then combined with Jason LaRue to become the best offensive catching tandem in the majors. Together they hit .268 with 28 home runs and 110 RBI.
Even with Jason LaRue out the first couple weeks of 2006, no one was concerned that the catching position wouldn't be well-manned the majority of the time while he was gone. Behind the plate, Javy is an adequate catcher who holds his own calling games and managing the pitchers. He doesn't let a particularly high number of pitches go past him and he's perfectly capable of throwing out an errant runner.
As a base runner, the LLM is among the slower Reds you'll see, but he's a smart all-around player and probably won't disappoint you with his running ability.
You can check out the actual statistics on Javy at JinAZ's site.