April 22, 2006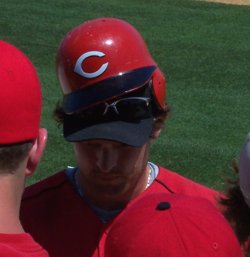 Austin Kearns plays right field for the Reds where for years he split time with Wily Mo Peña. The Reds considered moving Kearns to third base a couple years ago to make space for both players, and even sent Kearns to learn the position in the off-season before 2005. But after the experiment failed and Wily Mo was traded this season, Kearns has been able to set up permanent camp it right.
It's been a tough trip for Kearns. Injury after injury have hampered his development and it seems like someone is constantly saying "maybe this will finally be the year." The most famous of these injuries was a collision with Ray King in 2003. King "sat on" Kearns, and it eventually led to shoulder surgery for Kearns.
In June of last year, after a very rough start to the year and no indication of things getting better, the Reds sent Kearns down to AAA Louisville to lose a few pounds and get his head on straight, both of which he did after he got over his indignation. On July 5, he hit three home runs in a game against the Indianapolis Indians. He was back in Cincy before the end of the month, trimmer and wiser. Nowadays, Kearns is currently under a 1-year, $1.8 million contract.
As a batter, Kearns is solid with a lot of power. He's been streaky in the past but, well, maybe this will finally be the year. He's a respectable base runner and an all-around sound athlete.
Kearns' real claim to fame is his defense. He takes a good route to the ball and has the awesomest arm I've ever seen. I was once at a game where he delivered a strike from deep right field and Jason LaRue didn't even have to shift his weight on his feet to catch it. On a team known for its offense, it's not too often that the crowd gasps at a play to keep the runner on third.
Check out the statistical story on Kearns over at JinAZ's site.