April 23, 2006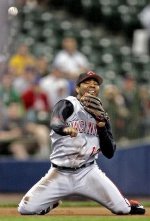 The Reds won today over the Brewers by the opposite of the ridiculous score they lost by yesterday to finish out the four-game series with three wins.
Aaron Harang, working on three-days rest to make an emergency early start after Eric Milton was scratched for knee problems, notched the first complete game by a Reds pitcher of the 2006 season. He allowed zero runs on five hits through nine innings. That's gotta help balance out that opening day debacle a bit.
The defense was strikingly on today, with Edwin Encarnación making at least three impressive defensive plays at third and Quinton McCracken a good catch or two in center field. Web-gem-worthy defense on a day when Ryan Freel isn't even in the line-up can only help the Reds' cause.
Eleven runs sounds pretty good for the offense, but they were helped by thirteen walks and three hits-by-pitch. In addition to the 11 runners who crossed the plate, 15 more were left on base. Only three of the Reds' runs came on home runs today, all from a two-out homer by Brandon Phillips. All-said-and-done, Phillips would contribute four runs, while Austin Kearns and Encarnación contributed three apiece.
The win brings the Reds' record to 12-7. Tomorrow they visit the Washington Nationals at 7:05 p.m. Elizardo Ramirez takes the mound for the Reds to face Livan Hernandez for the Nationals.